Birtwistle's The Woman and the Hare premiered
(June 1999)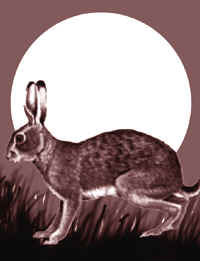 Harrison Birtwistle
's
The Woman and the Hare
tackles the challenging genre of the melodrama, and finds an impressive solution through the composer's fascination with multi-perspectives. Narrative and meditative strands, for reciter and soprano respectively, are interlinked to provide a rich and disturbing nocturnal frieze. The score was commissioned by the Nash Ensemble and Amelia Freedman, and the group gave the premiere in London on 9 March, with soprano Claron McFadden (already acclaimed for her performances of Birtwistle's
Pulse Shadows
with the Nash Ensemble) and actress Julia Watson, conducted by Lionel Friend.
"The text is by David Harsent, who was Birtwistle's librettist for Gawain, and he has come up with an elusive poem in which the image of a hare and that of the female narrator collide in a luminous landscape. Birtwistle gives the main burden of his text to the reciter, carefully defining the speech rhythms, but leaving the inflections to the performer, while interspersing the narrative with a series of rapt meditations for a high soprano. The singer reflects, dwells upon the imagery, while the speaker unfolds the story of this mysterious woman and her relationship with the hare. The perspective constantly switches between the two voices, while the instrumental ensemble surrounds them both in delicate webs of colour."
The Guardian
"The effect is not unlike recitative and aria sounding simultaneously, the more so since the vocal line moves slowly, syllable by syllable. With its melismas soaring right through the soprano's range to high Cs and Ds, the latter forms a reflective soliloquy which holds the dramatic momentum, generated by the reciter, in perfect equipoise. That control of the dramatic impetus, together with Birtwistle's sure sense of timing and fastidious ear for timbre, add up to another score of both identifiable provenance and remarkable originality… Birtwistle is still at the height of his considerable powers."
The Times
> News Search
Mailing List
Sign up for news updates and offers via email
SIGN UP
Featured Composer