Brett Dean: premieres of Amphitheatre and Pastoral Symphony
(February 2001)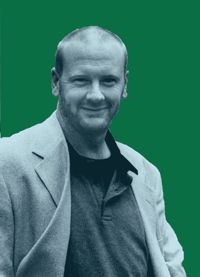 Brett Dean: premieres of Amphitheatre and Pastoral Symphony
With a series of high profile performances and commissions in the late 1990s, Brett Dean is now established as a leading composer of the younger generation, championed by international conductors including Simon Rattle, Markus Stenz and Daniel Harding. After a 15-year period working as violist and composer in Berlin, Dean returned to his native Australia last year and now lives near Brisbane concentrating solely on his activities as a composer. He has enjoyed a busy year with performances of his most celebrated work Carlo by the Los Angeles Philharmonic, his music's debut at the BBC Proms, and a collaboration between the Australian Chamber Orchestra and the Bang-on-a-Can All Stars at the Sydney Olympic Festival. His orchestral score Beggars and Angels, which was toured in Australia and Europe by Stenz and the Melbourne Symphony Orchestra, went on to win the award for best Australian work of 2000.



A new ten-minute orchestral score, Amphitheatre, was premiered by the Queensland Symphony under Daniel Harding last June, taking its title from descriptions of a ruined ancient Roman amphitheatre outside a modern city contained in the children's book Momo by Michael Ende. The past glories of the auditorium are conjured up with trumpet fanfares, as the musical material moves as if around the oval architecture and rises up through tiered layers of sound. The end of the work captures the dissipation of memory as described by Ende, when the modern tourist returns to his senses, takes a photo and departs: "Then stillness is reinstated to the stony roundness".

Dean's Etudenfest received ten performances on tour in November from the Australian Chamber Orchestra led by Richard Tognetti. The work is scored for strings and piano, and is a witty and imaginative exploration of the soundworld of pedagogical studies, in which the technical exercises take on a new beauty seldom relished in rehearsal rooms. Also recently premiered was Winter Songs, a setting of poetry by e e cummings for tenor and wind quintet, written for Scott Weir and Dean's ex-colleagues from the Berlin Philharmonic.

Dean's newest work is his Pastoral Symphony, commissioned by the city of Frankfurt and Ensemble Modern. It received its premiere conducted by Stefan Asbury on 9 February at Radio France's Présences festival in Paris, and can be heard again at Ars Musica in Brussels on 25 March, and in Frankfurt on 19 May. The work examines how the listener's perspective on nature has changed over the two centuries since Beethoven's Pastoral Symphony, as described by the composer: "Sure, we all 'love' nature, but what we love more are all the trappings of modern living…certainly more than the desire to stop and bask in the glory of a single butcherbird, perhaps the most magical sound found on the Australian continent. This piece, then, is about glorious birdsong, the threat that it faces, the loss, and the soulless noise that we're left with when they're all gone."

Dean's forthcoming plans include new works for the Adelaide and Melbourne Symphony Orchestras, the Birmingham Contemporary Music Group, and a stagework based on Peter Carey's novel Bliss. Please contact us for a copy of our recent Dean brochure.

Listen to a soundclip of Dean's Amphitheatre.
> Further information on Work: Pastoral Symphony
Photo: © Cordula Groth
> News Search
Mailing List
Sign up for news updates and offers via email
SIGN UP
Featured Composer