Chris Morgan talks about new Boosey Brass Method ...
(April 2003)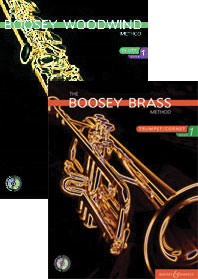 New Boosey Brass Method launched. Meet author Chris Morgan ...


Chris Morgan, editor of the
Boosey Woodwind and Brass Method
, explains what's behind the acclaimed new series

Q: What made you devise the Boosey & Hawkes method?

A:
Up until the mid 1990s, most instrumental teaching had been structured around graded exams. By and large, there has been no professional development for instrumental teaching – and this has been going on for a generation of instrumental teachers. So, we teach the way we were taught, drawing on the positive and the negative aspects of our own learning.
I've been an instrumental teacher since 1974 and the profession has changed significantly in 30 years. There are such diverse career paths in teaching that it's difficult to provide consistent training for the broad range of teachers. And once they get back on the conveyor belt of teaching, it's hard to step back and make fundamental changes to their approach.
Concern was being expressed when a whole lot of developments were happening in the classroom – particularly in areas such as composition and in part a result of the development of the National Curriculum – that were not being reflected in instrumental teaching. Effectively we have a scenario where there are two seams of music education: classroom and instrumental – it's only by sheer luck that the two cross. Instrumental teaching has been relatively narrow in terms of content. It's these issues that I'm bringing to bear in terms of the method.


Q: What do you mean when you say instrumental teaching has been 'narrow'?

A:
Take the aural side of things. Things are changing somewhat but in the context of exams it was generally pitch and rhythm that were tested. There were no questions about musical context, about the piano accompaniment or the structure of the music. It didn't encourage broader musicianship. I saw the need for change. It's not about just learning the dots but looking at being more creative and musicianly.


Q: How is that creative element reflected in the Method?

A:
I have drawn notation-based and other activities together. While the order of note learning is similar to other tutors, the Boosey & Hawkes method introduces other musicianship elements in the early stages. Students can listen to the accompanying CD for a highly structured 'echo game'. Then there is the strong 'DIY' element, the more creative work where students can make up a melodic line, for instance.


Q: Isn't there a danger that by listening to a CD you're actually imposing a view of music interpretation on people rather than letting them develop their own ideas?

A:
The key for me is that the disc can be used as a
resource
. The pupil can listen to an interpretation, to what the chords do and for ideas on where to breathe. They can also use it as a backing track – but I do put a health warning on that, encouraging people not to rely on a single view of the music! We've tried to put some interesting accompaniments together, as well, as so much of young people's music is not regarded as particularly interesting in that area.


Q: How diverse is the repertoire in the Method? Have you included new music or just arranged old works for different instruments?

A:
I wanted music that would stretch from 1300 to the present day. So there's the famous 'L'homme armé' melody (used by lots of composers throughout history as a basis for more elaborate works), some Purcell, Bach and Renaissance music. The musical vernacular of today is contemporary popular music. For that reason, I've commissioned pastiche-style music from composers – so there's everything from a touch of the Spice Girls to graphic scores.
I'm trying to develop independent thinking, an awareness of what people are listening to and playing. In Book 2 of the wind method, for instance, I've included
Lullaby of Birdland
– it can be played straight or with swing. We also have a lot of practice tips in the book so students have to think about how they practise and why.
I hope over time there will be further repertoire added. And that's what makes the online element of the Method unique. We're constantly adding extra repertoire and parts for the Method at the
Boosey & Hawkes website
. In terms of online resources, we're going to produce them for flute choir and clarinet choir – and we're looking at being able to download MIDI files in different formats.
I have tried to pitch the Method on two different levels. There are solos, duets and trios, and some of the duets and trios are for written for equal ability players making them useful for group work. I have commissioned composers specifically to write this type of component.


Q: Did you enjoy the commissioning process and can we expect more new music in future volumes?

A:
It was the first time I had commissioned music and it was very exciting. I was able to attract a range of composers working in different genres.


Q: Anyone you'd like to commission but haven't yet?

A:
As we go on developing the next round of repertoire, I would like to include something from John Adams.


Q: Are you happy with the feedback so far?

A:
The response to the woodwind method has been very positive. There's not been anything like this available in terms of instrumental lessons and I'm really looking forward to the reactions to what I'm working on next: repertoire books for brass ensemble.


Visit The
Boosey Woodwind & Brass Method
website for regular updates


© Impromptu Publishing Ltd 2003
> Further information on series: Boosey Wind & Brass Method
> News Search
Mailing List
Sign up for news updates and offers via email
SIGN UP
Featured Composer