Kurt Schwertsik bids Satie adieu
(May 2003)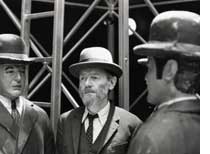 Kurt Schwertsik goes tango in his new work, Adieu Satie, for string quartet and bandoneon, the keyless accordion beloved of Astor Piazzola. The quintet was written for the Alban Berg Quartet, who are touring the new score around Europe in May with bandoneon player Per Arne Glorvigen, visiting Germany, Austria, Switzerland and the UK. Schwertsik has long admired Satie - the composer most closely connected to the Dada movement – and rather than writing a conventional programme note, Schwertsik penned a tribute poem summing up his aesthetic links with the French composer:



You monastic clown,
who wished to banish the bourgeois from art
and disturb the hushed solemn whisperings of lofty art-lovers
with music hall, cabaret and the circus.

You Dadaist,
who refused to distinguish high from low art
good taste from bad
simple from incomprehensible ideas.

You patron saint,
of a modern ideal, which is my homeland
where I always wished to be: Utopia.

You navigator of time,
salvage the soul of modernity destroyed by Fascism
in your own chariot vanishing into eternity.

Adieu Satie

(Text by Kurt Schwertsik. Translated by Richard Stokes © 2003)

In marked contrast, June brings the first performances of Schwertsik's new opera Katzelmacher, based on the 1968 play by Rainer Werner Fassbinder, turned into a film the following year. The production by Gerd Leo Kuck opened on 1 June at the Wuppertal Opera House, conducted by Martin Braun. Fassbinder's play exposes the bigotry and racism lurking within ordinary citizens which allows mere gossip to escalate into mob violence. The title is a Bavarian slur on immigrant workers, with connotations of alley cat moral standards, but the insult is redirected by Fassbinder back against those with a latent Fascism that remains a social threat to this day.
> Further information on Work: Adieu Satie
Photo: Axel Zeiniger
> News Search
Mailing List
Sign up for news updates and offers via email
SIGN UP
Featured Composer