New B&H Publications at the 2012 Frankfurt Music Fair
(March 2012)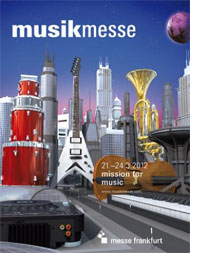 The newest Boosey & Hawkes publications took centre stage at the 2012 Frankfurt Musikmesse, the world's largest Music Fair.
New releases from Boosey & Hawkes showcased at the 2012 Frankfurt Music Fair encompass study scores, performance material, and the latest educational and leisure publications. Music ranges from the Russian piano masters including Rachmaninoff and Prokofieff, through new choral releases by Karl Jenkins and James MacMillan to scores of the latest pieces by leading contemporary composers such as Steve Reich and John Adams.

Karl Jenkins: The Peacemakers
Karl Jenkins's new hour-long work for orchestra and chorus, The Peacemakers, is published as a vocal score. This ties in with the release of the new EMI CD and anticipates the UK premiere tour in May visiting Manchester, London, Cardiff and Birmingham. The work extols the ideals of peace by incorporating texts from some of history's iconic figures and symbols of peace and tolerance, such as Mahatma Gandhi, Nelson Mandela, Mother Teresa, Dr Martin Luther King, Anne Frank and the Dalai Lama. The composer conducted the world premiere in a portrait concert of his works at New York's Carnegie Hall in January.

Contemporary Choral Series
The new Boosey & Hawkes Contemporary Choral Series offers an exciting choice of choral pieces from well-established figures and the finest emerging composers of our time. From Thomas Hewitt Jones and Ed Rex to James MacMillan and Karl Jenkins, this new series brings together a variety of beginner to intermediate arrangements suitable for all choirs. The initial batch of releases also includes Herbert Howells's King David, arranged for 8-part choir and piano by Iain Farrington together with a trio of choral works by Will Todd.

First Repertoire Pieces
A wide selection of new pieces for trumpet, saxophone, oboe, flute and clarinet with separate piano accompaniment parts. These new editions have been refreshed and repackaged to fulfil the needs of the next generation of musicians. Providing the perfect 'next step' for students reaching the end of Peter Wastall's award-winning Learn As You Play method books, these collections of repertoire are ideally suited for students of Grade 3-5 standard. Each piece is now complemented by useful practice and performance tips. A newly-recorded CD of backing tracks is also included alongside the piano accompaniment.

Solo Piano Collection: Russian Masters
The new Boosey & Hawkes Solo Piano Collection provides the intermediate pianist with exciting repertoire in accessible yet authentic arrangements. The first release in the series features 20 Russian classics arranged for the intermediate pianist, including pieces by 20th-century masters Prokofieff, Rachmaninoff and Shostakovich, alongside 19th-century greats Borodin, Mussorgsky and Tchaikovsky. Future releases in the series later this year include Best of British, Classical Chill-Out, Ballet & Other Dances, and American Greats.

Steve Reich: Drumming
New releases in the historic Hawkes Pocket Scores series include the first publication on sale of Steve Reich's minimalist classic from 1971, Drumming. Originally performed without a score by the composer's own ensemble, and then using a manuscript shorthand version, this is the first time the work is published in a fully notated form. As well as Drumming, new Reich additions to the HPS series are Sextet and his Pulitzer Prize-winning Double Sextet, all performed extensively during his 75th birthday celebrations in 2011.

John Adams: El Niño
Hot off the presses is the first publication of one of John Adams's major works, a vocal score of his Nativity oratorio El Niño. This significant contemporary large-scale work features a libretto based on original sources arranged by Peter Sellars and John Adams, showcasing Latin American poetry alongside verses from the King James Bible, among other gospel texts. Hailed as a "masterpiece" by the Philadelphia Inquirer, the work has been performed internationally and recorded by Nonesuch Records. Other recent Adams publications include a full score of his recent ensemble work Son of Chamber Symphony.

New publications from Boosey & Hawkes are available from all good music shops, including The Shop at Boosey.com.
> News Search
Mailing List
Sign up for news updates and offers via email
SIGN UP
Featured Composer