New contemporary piano pieces inspired by R&B
(March 2009)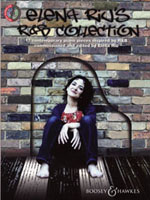 Elena Riu's R&B Collection.
A collection of newly-composed piano pieces for the intermediate performer, inspired by the theme of R&B in all its manifestations and compiled by pianist and teacher Elena Riu. Riu is known for her imaginative approach to arranging and her ability to inject new excitement into piano recitals.

Includes pieces by: Sally Beamish, Harvey Brough, Peter Cowdrey, Julio d'Escrivan, Cimeon Ellerton, Douglas Finch, Rolf Hind, Elena Kats-Chernin, Ana Lara, Phillip Neil Martin, Lola Perrin, Nick Redfern, Elena Riu, David Rosenboom, Huw Warren, Matt Wright, and Nikki Yeoh.
> Further information on Elena Riu's R&B Collection
> News Search
Email Newsletters
Sign up for news updates and offers via email
SIGN UP
Featured Composer