The Boosey and Hawkes Anthology for Advanced Players
(September 2009)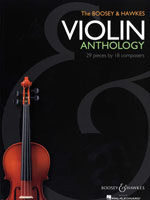 This comprehensive new anthology of works from the Romantic era to the 20th century is thoughtfully put together, and ideal for intermediate to advanced players. It includes works by some of the most popular Boosey and Hawkes composers, such as Béla Bartók, Leonard Bernstein, Benjamin Britten, Aaron Copland, Sergei Rachmaninoff, Ned Rorem, Igor Stravinsky, and others.

The anthology is available for several instruments, including strings, wind and brass, with content selection tailored slightly to suit each instrument. Special study has been paid to contest solo lists, making these ideal collections for advanced high school and college players.

Volumes are available for Violin, Viola, Cello, Flute, Clarinet, Horn, Trumpet.
> Further information on series: Boosey & Hawkes Anthology Series
> Further information on The Boosey & Hawkes Violin Anthology
> News Search
Email Newsletters
Sign up for news updates and offers via email
SIGN UP
Featured Composer