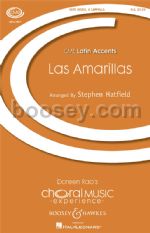 Hatfield, Stephen - Las Amarillas (SATB divisi A cappella)
description: SATB (divisi) a cappella
ISMN 9790051483945
Publisher Boosey & Hawkes (New York)
Availability: Stock Title


This product has a minimum order quantity of five copies

This is in the southern Mexican style of the Huapango. In this fast and fun music, with the flash of reds, yellows and greens and the flash in the rhythm, it's as if the entire landscape becomes the dancer's dress with a riot of color represented in the music.
There are currently no reviews for this product.
[Tell us what you think]