Andriessen's City of Dis: towards an opera
(October 2007)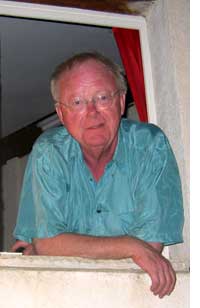 Andriessen's City of Dis: towards an opera
Los Angeles audiences are promised a taster of Louis Andriessen's forthcoming opera this autumn with the premiere of The City of Dis or The Ship of Fools.



Scored for voices and large ensemble, the new work is performed at Walt Disney Hall on 18 November by the Los Angeles Master Chorale conducted by Grant Gershon. It will form the first scene of Andriessen's 'film opera' La Commedia, scheduled for premiere at the Holland Festival in Amsterdam on 12 June 2008 in a production by filmmaker Hal Hartley.

The City of Dis is the burning city in Hell, visited by Dante in the Inferno section of his epic poem, and the composer has added references to The Ship of Fools, bearing humanity through life as man wastes himself on hedonistic pleasures. As well as an opening chorus setting a Latin verse from the Psalms about the drunkards aboard the ship, Andriessen follows with a 16th century text about the Blue Bark, a Dutch ship of fools, carrying those who gamble, dance and pursue beautiful women. Beatrice sings in Italian of Dante's mission to reach Heaven, and English texts describe passengers on a boat nearing the City of Dis, as they see the screaming Furies on the roof of the flaming towers. The work closes with a vision of a figure walking over the water and Dante sings: "I was certain that she was sent from Heaven".

Andriessen's complete La Commedia comprises five scenes of 18 minutes each. After The City of Dis or The Ship of Fools the opera continues with Racconto dall'Inferno, premiered as a separate work in Cologne in 2004. The third scene, Lucifer, concludes the Inferno section with the appearance of the fallen angel himself, and the fourth takes us to The Garden of Earthly Delights continuing the Hieronymus Bosch connection. Just as Bosch painted a notable Ship of Fools, so the Garden provided the central panel of his extraordinary triptych, flanked by Hell and Paradise. The final section of Andriessen's opera is Luce Eterna, drawing upon the transcendent closing stanzas of Dante's Paradiso.

Andriessen events over the coming months include first UK performances of his recent string quartet miserere by the Smith Quartet in London (8 November) and at the Huddersfield Festival (25 November). In February Lukas Vis performs De Staat on a Dutch tour with the Netherlands Wind Ensemble. Reinbert de Leeuw remains a staunch champion of Andriessen's music with performances last month of De Tijd with the Asko and Schoenberg Ensembles in Rotterdam and Maastricht and plans for the complete De Materie in Rotterdam and Amsterdam next May and June as an upbeat to the premiere of La Commedia.
> Further information on Work: The City of Dis or: The Ship of Fools
Photo: Mirjam Zegers
> News Search