Frank Schwemmer's Treasure Island youth opera in Zürich
(January 2013)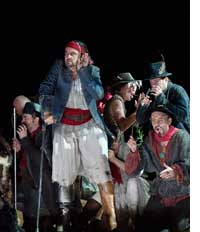 A new Treasure Island opera for young people, composed by Frank Schwemmer, opened at Zürich Opera House in November and enjoys a second production in Erfurt in May.
Frank Schwemmer's success at creating new operas for young people that appeal across the age divide, from children through teenagers to parents, continued with the world premiere in Zürich in November of Die Schatzinsel based on Robert Louis Stevenson's classic Treasure Island, with a libretto by Michael Frowin. This was the first youth opera commissioned by Andreas Homoki, Zürich's new director, and as noted in the Neue Zürcher Zeitung he "demonstrated that you can appeal to the youngest audiences with themes and novelties appropriate to their age. And the fact that this doesn't merely rely on high-tech, computer games and Harry Potter fantasy can do no harm."

"Schwemmer's music is entirely at the service of the story and the text: strongly pointed towards a dramatic interplay of instrumental colours, it accompanies the stage events and in the quieter moments can lead directly to nightmarish and atmospheric painting, with harmonics on the strings and stormy noises in the woodwinds… The opera's success is that it communicates to the young audience without either cloying cuteness or wagging fingers."
Neue Zürcher Zeitung

A second production of Treasure Island opens at the Theater Erfurt in May. Robin Hood, Schwemmer's earlier youth opera, commissioned by Homoki when director of the Komische Oper in Berlin, continues to travel widely. With over 70 performances to date it has received further productions for Deutsche Oper am Rhein and in Karlsruhe, and Oslo plays host to its Norwegian premiere in the original staging in March.
> Further information on Work: Die Schatzinsel
Photo: Die Schatzinsel at Zurich Opera House (Judith Schlosser)
> News Search
Mailing List
Sign up for news updates and offers via email
SIGN UP
ONLINE SCORES