Deutsch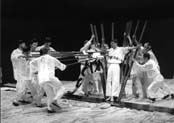 Photo: Regine Koerner
Biennale München, 1988, Director: Rosalie
Glanert, Detlev
Leyla und Medjnun (1987/1988)
(Layla and Majnun)
Duration: 90 minutes
Fairytale for music
Libretto by Aras Ören and Peter Schneider; Italian translation by Marco Marica and Matteo D'Amico (G,I)
Scoring
3S,M,3T,2Bar,speaking role; 1(=afl,picc).1(=corA).1(=bcl).1(=dbn)-1.0.0.0-perc(4):gongs/glsp/vib/crot/3tam-t/tgl/5tom-t/5wdbl/whip/cym(sm,lg)/susp.cym/hi-hat/BD/sizzle cym/xyl-harp-pft(=cel)-ud-strings(1.1.1.1.1).
Abbreviations (PDF).
Territory
This work is available from Boosey & Hawkes for the world.
World Premiere
5/28/1988
Philharmonie am Gasteig, Carl-Orff-Saal, München
Klaus Kirschner, director
Conductor: Roger Epple
Company: Maria Husmann, soprano / Sibrand Basa, tenor / Ensemble für Neue Musik München
Roles

| | |
| --- | --- |
| LEYLA | Soprano |
| MEDJNUN | Tenor |
| FATHER / HUNTER / DOCTOR | Baritone |
| MOTHER / GIRAFFE | Mezzo-Soprano |
| DEAR / PUPIL | Soprano |
| WARRIOR / BRIDEGROOM / MERCHANT / PUPIL | Tenor |
| LIONESS / MERCHANT | Bass Baritone |
| MORNING BIRD / PUPIL | Soprano |
| FOX / MERCHANT / PUPIL | High Baritone |
| ZENNE | Speaking role |
Time and Place
Medieval, persian-turkish Minnesong
Synopsis
Zenne, a Turkish magician, tells this Arabian fairytale from a present-day standpoint, cynically and without pathos. He directs the action, commentates, and decides on the fate of the characters: Leyla and Medjnun love each other, but the society in which they live forbids their attachment. Medjnun is a poet and is in love with love; but Leyla loves the human being in Medjnun. People think Medjnun is mad for he composes poem after poem, celebrating his love in verse. Nobody understands Medjnun, so he goes off into the desert. There, he converses with the animals, for the power of his love has bestowed their language on him. A physician comes to try and heal him, his father wants to bring him back – but to no avail. Medjnun becomes more and more lost in reverie. Leyla is pining away with love for Medjnun but is forced to marry another man chosen by her parents. Finally, the power of Medjnun´s poetry unleashes a war for a love which in essence only harbours death. Leyla goes into a decline and dies.
Press Quotes
"Zenne, the magician and master of ceremonies of this fairy-tale, corresponds for us to the exotic fascination of the old arabic gutteral sound of the ud. Glanert uses its glissando embellishments, microtonal sound world, and fluctuating intonation to link the scenes and, sparingly, to create a kind of synthesis between East and West, European expressivity and chiselled stasis of sounds, individuality and magical reverie... At the end, 'Love is war' appears on a cloth banner hanging high in the air: Medjnun winds himself up in it to die. A war indeed, as it has been from time immemorial in the history of music and where the newly discovered composer Detlev Glanert is no exception: instead of killing he provokes yet also entrances us." (Wolfgang Schreiber, Süddeutsche Zeitung, 30 May 1988)

"Leyla and Medjnun is first and foremost a serious and sensitive approach to the thoughts and feelings of a foreign people. However, the composer does not attempt to create a synthesis of Turkish and modern European music. Finally the fairy tale seems to be strangely transformed, like a modern hieroglyph, impossible to decode by empathizing." (Hans-Klaus Jungheinrich, Frankfurter Rundschau, 30 May 1988)
Moods
Dramatic, Poetic
Subjects
Magic/Mystery, Relationships, Society
Mailing List
Sign up for news updates and offers via email
SIGN UP
ONLINE SCORES