English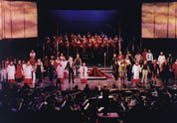 Photo:R.R. Jones/Courtesy Cabrillo Festival of Contemporary Music
Cabrillo Festival of Contemporary Music, 1999
Bernstein, Leonard
Mass (full version) (1971)
Dauer: 108 Minuten
A theatre piece for singers, players, and dancers
Libretto from the liturgy of the Roman Mass, with additional texts by Stephen Schwartz and the composer (L,E)
Besetzung
Celebrant (lead solo); soloists (ca.20 from Street People); SATB robed choir (ca.60); boys' choir (ca.20 with boyS solo); Street People (ca.45 singer-dancers) Stage orchestra (in costume, acting as cast members): 2(I,II=picc).2(II=corA).3(=3sax(SAT)/Ebcl/bcl).2(II=dbn)-4.4.3.1-perc(2):2sets of traps/bongos/tpl.bl/finger cyms/glsp/2tambs-street perc:claves/bottles/gourds/3steel dr/tin cans/tambs-2elec.guitars-bass guitar-2elec.kybds Pit orchestra: harp-2Allen org-timp.perc(3-4):cel/vib/glsp/marimba/xyl/chimes/SD/TD/ BD/bongos/4tuned dr/susp.cyms/cyms/tgl/tpl.bl/tamb/tam-t/wdbl/anvil/2cowbells-strings-pre-recorded tape.
Abkürzungsverzeichnis (PDF).
Vertriebsgebiet
Dieses Werk ist erhältlich bei Boosey & Hawkes für Aufführungen in der ganzen Welt.
Uraufführung
9/8/1971
Kennedy Center, Washington, DC
Alvin Ailey, choreographer / Gordon Davidson, director
Dirigent: Maurice Peress
Rollen

| | |
| --- | --- |
| Zelebrant (Lead Solo) | |
| Solisten (ca. 20, aus der Gruppe der "Street People") | |
| Chor SATB in Roben (ca. 60) | |
| Knabenchor (ca. 20, inkl. Knabensopran solo) | |
| Street People (ca. 45, Sänger-Tänzer) | |
Ort und Zeit
Zeit nicht näher bestimmt – Ein Ort der Anbetung
Zusammenfassung
Mass basiert auf der lateinischen Messe, aus der Sicht eines Zelebranten, der gerade eine Glaubenskrise durchmacht. Das Stück folgt genau der Liturgie, doch stehen den originalen Textpassagen häufige Unterbrechungen durch den Zelebranten und die Gemeinde gegenüber, wie in einer andauernden Debatte. Der Glaube des Zelebranten ist zunächst schlicht und rein, wie es etwa sein Wunsch zeigt, zum Lob Gottes "ein schlichtes Lied" zu singen. Doch dieser Glaube läßt sich unter der Last aus menschlichem Leid, Korrumpierung und den Fallstricken weltlicher Macht immer weniger aufrechterhalten. Am Ende erkennt der Zelebrant – kurz davor, seinem Glauben abzuschwören –, daß die Einsamkeit seines Zweifelns gegenüber der Freude nicht bestehen kann, sich mit anderen Gläubigen zum Lobgesang zu vereinen. –

Ein fortlaufender Weg führt aus dem Orchestergraben über Treppenstufen zur Vorbühne. Der Weg verläuft weiter zu einer Spielfläche in der Mitte, die wiederum zu einem erhobenen, runden Altarraum führt, und in Form von Treppenstufen weiter zum höchsten, weit entfernten Punkt. In der dritten Sequenz sind Chorstühle hinten rechts und links auf der Bühne zu sehen, die bis an die Treppenstufen stoßen und das ganze Werk hindurch dort stehen bleiben.

Das Orchester ist in zwei Teile geteilt: ein Orchester mit Streichern und Schlagzeug im Orchestergraben, dazu zwei Orgeln (eine Konzert- und eine "Rock"-Orgel); und ein Bühnenorchester mit Bläsern, E-Gitarren, Keyboard usw. Diese Bühnenmusiker sind kostümiert und agieren auch als Darsteller. Der Chor der Menschen auf der Straße besteht aus Sängern und Tänzern. Im Chorgestühl sitzt ein gemischter Chor in Roben.
Stimmung
poetisch
Themen
Religion, Gesellschaft
Empfohlene Aufnahme
Jubilant Sykes, Marin Alsop, Baltimore Symphony Orchestra Naxos
8.559622-23

Click here to purchase this CD from Amazon
Kaufausgaben