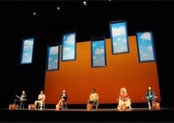 Photo: courtesy of David T. Little
Little, David T.
Vinkensport, or The Finch Opera (2009-2010)
Duration: 40 minutes
one act opera for 6 singers and orchestra
Libretto by Royce Vavrek (E)
Scoring
1.picc.2.1.bcl.2-2.2.2.1-timp.perc(3):I=chimes/BD/crot/vib/glsp/susp.cym/marble in Martini glass; II=xyl/glsp/SD/crot/marimba; III=vib/kick dr/floor tom/marimba/ride cym/hi-hat/rack tom/SD/Splash cym/Crash cym-pft-harp-strings

This work is also available for reduced orchestra. Please follow this link for more information.
Abbreviations (PDF)
Territory
This work is available from Boosey & Hawkes for the world.
Roles
| | |
| --- | --- |
| Farinelli's Trainer | Soprano |
| Sir Elton John's Trainer | Soprano |
| Holy St. Francis's Trainer | Soprano |
| Hans Sachs's Trainer | Tenor |
| Prince Gabriel III of Belgium's Trainer's Son | Baritone |
| Atticus Finch's Trainer | Bass-Baritone |
Synopsis
A motley assortment of contestants participate in their annual finch-sitting competition, a Belgian folk competition that pits chaffinches (and their owners) against each other in a battle to see who has the most melodious bird. The contest is run as such: a man waves a flag and each of the competitors sits in front of a box containing one of their fellow contestants' birds. Every time a bird makes a proper call (a suck-e-wiet, as it's called in these circles) they receive a tally mark. The bird with the most points wins, bringing much pride to its trainer. Although a seemingly simple and gentle competition, access to the competitor's inner monologues and flashbacks to their preparations reveal deception, deep-seated rivalries, painful loneliness, and blossoming romance.
Composer Notes
Vinkensport, or The Finch Opera (2010) is a bitter-sweet comedy in one act, which explores obsession, desire, and the need to win, through the frame of an obscure Flemish folk sport, "finch-sitting".
Trained finches race to sing the most "susk-e-wiets" over the course of an hour. As they compete, the joys, sorrows, delusions and all-too-stark realities of their trainers are revealed. We never know the trainers' real names. They are defined by their birds, and so are named accordingly: Atticus Finch's Trainer, etc.
Some of the trainer/competitors are noble, some not. Some play fair, some don't. Some just don't even want to be there at all. But almost all are lost in the world, finding comfort in the companionship of their birds, and in the mere potential for community.
Lasting approximately forty minutes, Vinkensport, or The Finch Opera was commissioned by Dawn Upshaw for the Graduate Vocal Arts Program at the Bard Conservatory, where it was premiered in February of 2010. It is dedicated to Eileen Mack.
David T. Little
October 7, 2015
Email Newsletters
Sign up for news updates and offers via email
SIGN UP
ONLINE SCORES