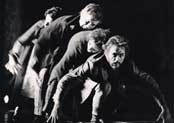 Photo: Australian Opera
Australian Opera 1985, Graeme Murphy, dir
Howard, Brian
Metamorphosis (1983)
Duration: 100 minutes
Chamber opera in six scenes
Libretto by Steven Berkoff, after Kafka (E)
Scoring
S,M,T,2Bar,BBar 1(=picc).0.1(=bcl).ssax(=tsax).1(=dbn)-1.0.0.0-elec.guitar- perc(2):glsp/marimba/vib/SD/BD/large susp.cym/timp/crot/xyl/SD/BD/ ratchet/tam-t/lion's roar/claves/timp-strings(1.1.1.1.0)
Abbreviations (PDF)
Territory
This work is available from Boosey & Hawkes for the world.
World Premiere
30/09/1983
Melbourne, VIC
Conductor: Graham Cox
Company: Victoria State Opera

Synopsis
Gregor Samsa's family briefly relate what happens to him: how he wakes up in bed one morning to find himself transformed into an insect, how he had up till then been a model employee as a commercial traveller, how he had supported them with his earnings. Then the action proper begins. One morning, the Samsa family at breakfast awaits the appearance of Gregor, who is late getting up to go to work. He, meanwhile, wakes up to find himself changed into a large beetle. Eventually their concerned enquiries outside his room are joined by those of the Chief Clerk of his firm, come to discover where he is. He answers them, but his speech is now indecipherable. Eventually he succeeds in opening the door. They see him and recoil in horror. From then on his family's reaction to him steadily worsens. His father beats him back inside the room with a stick. They come to miss his earnings, and his father is forced to take a job. His sister initially feeds him and cleans his room, though gradually her revulsion at his appearance causes her to cease her ministrations. When they try to empty his room of furniture he scuttles out and hides under a sofa, where his father proceeds to pelt him with apples. He flees back inside, but one has lodged in his back and eventually causes an infection. They find a lodger to help their income, but he quickly discovers Gregor and, disgusted, leaves without paying his rent. They decide to get rid of Gregor. Sick and enfeebled, he starves to death. They are pleased that he has been released from his suffering and look forward to life without him.
Subjects
Ethics, Literary, Relationships
Email Newsletters
Sign up for news updates and offers via email
SIGN UP
ONLINE SCORES