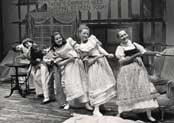 Photo: Ian Russell / Welsh National Opera
Welsh National Opera, 1978
Britten, Benjamin
Let's Make an Opera (1949)
Duration: 130 minutes
An Entertainment for Young People
Libretto by Eric Crozier (E,F,G,I)
Scoring
Adult roles:2S,A,T,B; children's roles:4Tr,2S; audience participation
perc(1):timp/BD/SD/gong/cyms/tgl/cast/lge & sm wdbl-pft(4hands)-solo string quintet
(also arranged for piano duet with or without percussion)
The first two acts are in the form of a play illustrating the preparation and rehearsal of 'The Little Sweep', the opera which is performed in the third act.
Alternative play text: 'The Climbing Boy' by Paul Johnson
Abbreviations (PDF)
World Premiere
6/14/1949
Jubilee Hall, Aldeburgh
Basil Coleman and Stuart Burge, director
Conductor: Norman Del Mar
Company: English Opera Group
Roles
| | |
| --- | --- |
| GLADYS PARWORTHY | Contralto |
| NORMAN CHAFFINCH, a composer | Bass |
| MAX WESTLETON | Tenor |
| PAMELA WILTON | Soprano |
| ANNE DOUGALL | Soprano |
| MR HARPER | Spoken role |
| JOHN | Treble |
| BRUCE | Treble |
| MONICA | Soprano |
| PETER | Treble |
| MAVIS | Soprano |
| RALPH | Treble |
Time and Place
Children's Nursery of Iken Hall, Suffolk, 1810
Synopsis


The piece consists of a two-act play preceding the one-act opera The Little Sweep. The play is set in the drawing-room of Gladys Parworthy's house, where she tells her guests, including several children and her friend the composer Norman Chaffinch, the story of the Little Sweep, which took place in Suffolk when her grandmother was a young girl (around 1810). They all like the story, and Norman starts planning an opera based on it, in which they will all take part. They divide up the roles amongst themselves, and discuss in practical terms what they will need to do over the next ten weeks to bring it off. In the second scene Norman starts rehearsing and successfully auditions Max Westleton, a local office worker, for the part of the sweep's assistant, Clem. In the second act the dress rehearsal takes place in front of the audience, who are invited to join in some of the songs.
Repertoire Note
Two of the major preoccupations informing Britten's life and work, opera and music for children, come together in this 'Entertainment for Young People', the first part of which, Let's Make An Opera, consists of a play in which we see a group of children and adults write and rehearse an opera; the second part consisting of a performance of the finished opera itself. As such, the work can almost be seen as Britten's operatic counterpart to The Young Persons Guide to the Orchestra. Yet despite the light-hearted approach, The Little Sweep is also a morality tale in which Sam the sweep boy is sold into service and bullied by his elders in a manner reminiscent of Peter Grimes. Thus the work embodies a rounded and involving theatrical experience, introducing young audiences to the conventions of opera by means of a simple yet affecting story with which they can sympathise and identify. That Britten undoubtedly succeeded in his aim is demonstrated by the work's universal appeal and popularity.


Reproduced by kind permission of the Britten-Pears Library
Recommended Recording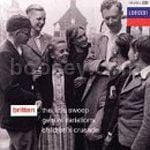 (The Little Sweep only)
David Hemmings/Jennifer Vyvyan/Peter Pears/Nancy Evans/Alleyn's School Choir/English Opera Group/Benjamin Britten
Decca 436 3932