Deutsch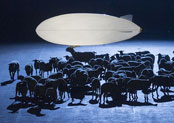 Photo: Wonge Bergmann
Ruhr Triennale 2014
Andriessen, Louis
De Materie (1985-88)
[Matter]
Duration: 108 minutes
Stagework for soprano and tenor soloists, two speakers, eight voices and large ensemble
various (Fl,Fl-E)
Scoring
S,T,2speakers; chorus(2.2.2.2) 3.4(III,IV=corA).5.3bcl(III=dbcl).2asax.2tsax.barsax.0-4.4.4.1-perc(6):3marimbas/glsp/vib(4hands)/ 11gongs/SD/2BD/string dr/2drum sets(hi-hat,cym,8boobams and/or syn dr,SD,BD)/lg rattle/ 3lg cowbells/lg log dr/2lg metal boxes/2sets of tom-t/metal chimes(ad lib)/t.bells/lg slapstick/guiro/ bell tree/tam-t/timp/2bellplate/metal and heavy metal(eg 4car bumpers)-harp-cel-2pft-2synth-2gtr-bass gtr- strings(2.2.2.2.1).
Abbreviations (PDF).
Territory
This work is available from Boosey & Hawkes for the world.
World Premiere
01/06/1989
Muziektheater, Amsterdam
Robert Wilson, director
Conductor: Reinbert de Leeuw
Company: Netherlands Opera/Materie Orkest
Synopsis

The four sections of the work, which can be performed on stage or in concert, offer different perspectives on the relationship between matter and spirit. Part I, combining 17th century Dutch treatises on shipbuilding and atomic theory, sets the monumental tone with 144 orchestral hammerblows forming a precisely plotted rhythmic crescendo to the first entry of the tenor. Hadewijch (Part II) is more expansive and lyrical, with a soprano exploring the mystical visions of the 13th century prophetess Hadewijch, but again rigorously structured in medieval fashion. De Stijl (Part III) is dominated by 20th century musical forms, most apparent in the boogie-woogie which accompanies reminiscenses of the artist Mondriaan at the dance hall. Part IV employs writings on science and death, set to a stately pavan hocketing between two groups of instruments.
Press Quotes
"...there's no doubt that De Materie is Andriessen's finest work to date, and one of the most significant scores produced by a European composer in the last 20 years." The Guardian
"...an arresting piece that combines rigorous planning with exuberant, vigorous invention." The Observer
Moods
Poetic
Subjects
Contemporary, History, Politics, Society, Literary
Recommended Recording
Netherlands Chamber Choir/Schoenberg Ensemble/Asko Ensemble
Nonesuch 7559 79367-2
Click here to purchase this CD set from Amazon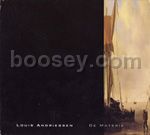 Mailing List
Sign up for news updates and offers via email
SIGN UP
ONLINE SCORES