Siebert, Wilhelm Dieter
:
Untergang der Titanic
(The Sinking of the Titanic)
(1979)
120'
Opera in two acts
Music Text
English
Libretto vom Komponisten in Zusammenarbeit mit Christian Rateuke und Hartmann Schmige; englische Übersetzung von Lauren Driscoll (dt., engl.)
Orchesterbesetzung
S,colS,M,A,7T,4Bar,4B,non-singing role,actor; 1(=picc).1.2(II=bcl).1-1.2.2.0-timp.perc(2)-harp-pft-accordion-strings-tapes
Abkürzungsverzeichnis (PDF)
Vertriebsgebiet
Dieses Werk ist erhältlich bei Boosey & Hawkes für Aufführungen in der ganzen Welt.


For full details on this stagework, including synopsis and roles, please visit our Opera section.
World Premiere
06/09/1979
Deutsche Oper, Berlin
Winfried Bauernfeind, director / Ensemble Deutsche Oper Berlin / Caspar Richter

Komponist im Porträt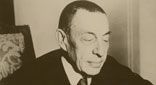 Sergei Rachmaninoff
Zu den wichtigsten Werken dieses beliebten russischen Komponisten zählen das Klavierkonzert Nr.2, die Symphonischen Tänze und die Paganini-Rhapsodie.
LESEN SIE MEHR