The Orchestral Player series
More than just collections of difficult passages for the aspiring orchestral professional, this new series reveals the tricks of the trade, distilling the expertise of Rodney Friend (the series originator) and other top orchestral players by assembling extracts from the classical romantic & 20th-century concert repertoire as self-contained studies. Detailed fingerings and workable bowings are reproduced.


Komponist im Porträt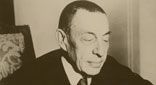 Sergei Rachmaninoff
Zu den wichtigsten Werken dieses beliebten russischen Komponisten zählen das Klavierkonzert Nr.2, die Symphonischen Tänze und die Paganini-Rhapsodie.
LESEN SIE MEHR