Britten: Selected Folksong Arrangements for student singers
(September 2008)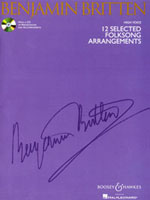 They are 12 of the most practical and accessible of Britten's jewel-like folksong settings.
This selection was made with student singers and pianists in mind.The book also includes historical notes on the songs, and the CD of performances by professional singers will help students and teachers to familiarise themselves with these expressive lyrical works.
> Weitere Informationen zu Twelve Folksong Arrangements - high voice & piano
> Nachrichtensuche
Komponist im Porträt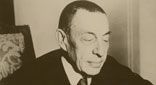 Sergei Rachmaninoff
Zu den wichtigsten Werken dieses beliebten russischen Komponisten zählen das Klavierkonzert Nr.2, die Symphonischen Tänze und die Paganini-Rhapsodie.
LESEN SIE MEHR