Christopher Norton Concert Collection for Alto Saxophone
(September 2008)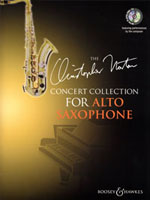 The creator of Microjazz brings you this stunning collection which contains music for alto saxophone and piano for intermediate to advanced-level players.
The 15 entertaining and inventive pieces are based on well-known American folk tunes, Christmas carols and nursery rhymes.

This book also includes a spectacular playalong CD featuring backing tracks and performances played by Christopher Norton himself.
> Weitere Informationen zur Reihe: Christopher Norton Concert Collection
> Weitere Informationen zu Christopher Norton Concert Collection for Alto Sax
> Nachrichtensuche
Komponist im Porträt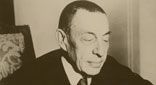 Sergei Rachmaninoff
Zu den wichtigsten Werken dieses beliebten russischen Komponisten zählen das Klavierkonzert Nr.2, die Symphonischen Tänze und die Paganini-Rhapsodie.
LESEN SIE MEHR