Anna Nicole: The Musical Out Now on DVD and Blu-Ray
(August 2011)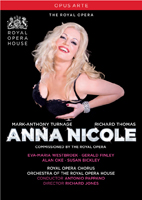 In a tragic-comic take on the extremes of celebrity culture, composer Mark-Anthony Turnage, librettist Richard Thomas and director Richard Jones add Anna Nicole Smith to opera's gallery of bad, sad girls. A pneumatic Playboy model who married an octogenarian billionaire, she achieved grotesque fame before her destitute, drugriddled
death.
With its jazz-coloured score and Eva-Maria Westbroek's starry performance, this is, as the New York Times said:
"an engrossing outrageous, entertaining and, ultimately deeply moving opera".
"...It's a tremendous show...shocking it isn't; stunning it is!"
The Independent
Recorded live at the Royal Opera House,
23 & 26 February 2011
Anna Nicole The Musical: Opus Arte DVD
Anna Nicole The Musical: Opus Arte Blu-Ray
> Nachrichtensuche
Komponist im Porträt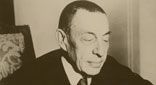 Sergei Rachmaninoff
Zu den wichtigsten Werken dieses beliebten russischen Komponisten zählen das Klavierkonzert Nr.2, die Symphonischen Tänze und die Paganini-Rhapsodie.
LESEN SIE MEHR