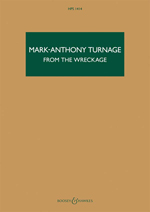 Incuding works from Reich, Vaughan Williams, Turnage, Lindberg and MacMillan.
Hawkes Pocket Scores Highlights
New releases in the classic Hawkes Pocket Score series include major works by contemporary composers, available on sale for the first time. Highlights include the first HPS of James MacMillan's Tryst, Magnus Lindberg's Violin Concerto and Steve Reich's Triple Quartet and Music for Mallet Instruments, Voices and Organ. Also appearing in the series for the first time are Rachmaninoff's Corelli Variations in the Dumbraveanu chamber orchestra arrangement, the orchestral version by Vladimir Jurowski of a collection of Rachmaninoff's songs, and Vaughan Williams's Four Hymns for tenor and orchestra.