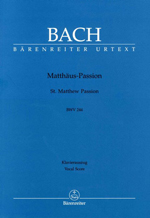 Representing outstanding value for money, Barenreiter vocal Scores are the most up-to-date editions available in print today.
The number of singers using the famous blue Barenreiter Urtext Vocal Scores is impressive. These scores are indispensable in modern musical life and are used for the rehearsal of sacred vocal works as well as in concert halls and churches for performance.

Due care and attention have been taken to ensure that the vocal parts reflect the high-quality well-researched musical text of the New Complete Editions. The piano reductions provide a clear uncluttered impression of the orchestral scoring and have been fully adapted to incorporate the pianist's needs.