Click here to return to our full list of musicals and operettas.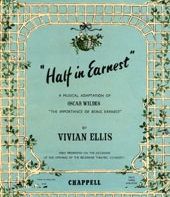 HALF IN EARNEST
Music, Lyrics and Adaptation by Vivian Ellis
Based on "The Importance of Being Earnest" and other works by Oscar Wilde

Administered for rental and amateur stage rights by Boosey & Hawkes in the UK.


HALF IN EARNEST, first performed at the Belgrade Theatre Coventry on 27th March 1958, is a delightful musical by Vivian Ellis, based on THE IMPORTANCE OF BEING EARNEST and other works of Oscar Wilde.
Please follow this link to view the vocal score and libretto online, free of charge.
Please follow this link to listen to extracts from a selection of songs from the musical.
Licensing performances
If you wish to apply to perform the musical, then please send an email to musicals@boosey.com stating the following information only:
1) Name of school/society
2) Where you are (city/town)
3) What you want to perform (Half in Earnest)
4) When you want to perform (if exact dates are not yet known, then please provide the month)
We will then send you an application form by email to complete, along with details of costs involved. Once the form is completed and returned by email, a licence will be emailed to you for signature. Once signed we will be able to send you the music at the date requested on your application form.
Details of hire requirements should be submitted on the application form. We can provide piano vocal scores and libretti. Please note that you must use live musicians and the use of a backing track is strictly forbidden.
Information
INSTRUMENTATION
Two pianos


THE STORY (Late Victorian England)
John Worthing, who calls himself Jack in the country but Earnest in town, wants to marry Gwendolen Fairfax, daughter of the formidable Lady Bracknell. Worthing's background is so obscure – as a baby he was found in a handbag at London's Victoria Station – that Lady Bracknell strongly objects to the marriage. His friend in London, Algernon Moncrierff, discovers the whereabouts of Worthing's country estate on which lives his pretty young ward, Cecily Cardew. She is under the tutelage of the governess, Miss Prism. The important question is whether Worthing is, or not, called Earnest, because Gwendolen would never marry anyone whose name was not Earnest. Eventually comes the revelation that Worthing is actually the son of Lady Bracknell's sister. He was left in the handbag through the absentmindedness of the governess. His name is Earnest John Moncrieff and he is therefore the brother of his friend Algernon. Marriages are planned between Cecily and Algernon and Miss Prism and Dr Chasuable. Gwendolen feels able to marry Worthing because his name really is Earnest and he knows for the first time in his life the vital importance of being Earnest. (In addition to the familiar character of the well-known comedy, a small chorus is required to augment the singing, occupying what appears to the audience as two theatre boxes on each side of the stage.)


PRINCIPAL CHARACTERS
John Worthing J.P
Algernon Moncrieff
Lady Bracknell
Cecily Cardew


PRINCIPAL MUSICAL NUMBERS
Don't Touch The Cucumber Sandwiches (Algernon)
A Bunburying I Must Go (Algernon)
How Do You Propose To Propose (Jack, Gwendolen)
Foolish Love (Cecily)
There's No Friend Like a New Friend (Cecily, Algernon)
Christening Quartette (Algernon, Jack, Cecily, Gwendolen)
The Social Scale (Lady Bracknell)


Click here to return to our full list of musicals and operettas.
Warner/Chappell
For further information visit the Warner/Chappell website