Click here to return to our full list of musicals and operettas.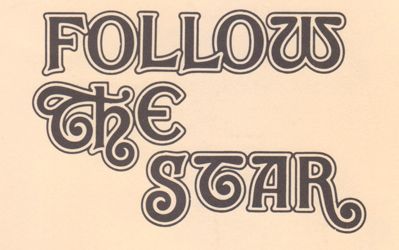 FOLLOW THE STAR
Music by Jim Parker
Libretto and Lyrics by Wally K. Daly

Administered for rental and amateur stage rights by Boosey & Hawkes in the UK.


"Follow The Star" is a delightfully fresh retelling of how Christmas began. There are plenty of opportunities for audience participation; children especially will find it difficult not to become involved in the events enacted on the stage.
Please follow this link to view an abridged vocal score online, free of charge.
Please follow this link to listen to extracts from a selections of songs from the musical.
If you wish to apply to perform the musical, then please send an email to musicals@boosey.com stating the following information only:
1) Name of school/society
2) Where you are (city/town)
3) What you want to perform (Follow the Star)
4) When you want to perform (if exact dates are not yet known, then please provide the month)
We will then send you an application form by email to complete, along with details of costs involved. Once the form is completed and returned by email, a licence will be emailed to you for signature. Once signed we will be able to send you the music at the date requested on your application form.

Your hire requirements should be submitted on the application form, and details of materials available to hire can be found below.
HIRE MATERIALS AVAILABLE & NSTRUMENTATION

We can provide orchestral parts (details below) and vocal scores. Please note that you must use live musicians and the use of a backing track is strictly forbidden.

Libretti are not available for hire. Libretti may be purchased online by clicking here.

1 Conductor Score – annotated vocal score
1 Flute
1 Clarinet
1 Trumpet
1 Trombone
1 Percussion
1 Guitar
1 Piano
2 Violins I
1 Violin II
1 Viola
1 Cello
1 Double Bass


THE STORY
Olly, in charge of the angels, gives Gabby (the Angel Gabriel) the task of going below to Nazareth where he must find a lady called Mary and tell her some news. Gabby is thrilled to have something to do because Angels only grow taller if they do good work. At the moment Gabby is rather small. After finding Mary and telling her that she is going to have a baby, he does something he has been instructed not to do – he lets Joseph see him. When Gabby reports back to Heaven, Olly is annoyed with him for disobeying orders. However, he gives him another chance. Gabby is assigned the job of being the star that the Three Wise Men follow all the way from their lands to Bethlehem. Angy, Jelly and Lofty, three other angels, are told to make the Three Wise Men decide to follow the star. The vain and cruel Herod meets the Wise Men who innocently tell him that a Saviour is soon to be born who will be King. Herod secretly determines that the baby must not be allowed to live. Mary and Joseph arrive in Bethlehem and because they are turned away by the Inn Keepers the baby is born in a stable. When Herod comes trying to find the baby, the crib is hidden by Oxy, Assy and Angel Chicago. Gabby has been so good at being a star that he finds himself grown noticeably taller. After Herod has gone Gabby comes to earth and goes to the crib to view the baby. Gabby is closely followed by the Three Wise Men who bring gifts. Suddenly, Herod returns. The angels hurriedly erect a small wall of cloud to hide Mary, Joseph and the crib. Herod and his soldiers are beaten back by Oxy, Assy and the weather (with some assistance from the audience). Finally, Mary, Joseph and the baby are helped on their way with a happy song.


PRINCIPAL MUSICAL NUMBERS
I'm Going To Be A Star (Gabby)
Follow The Star (Three Wise Men, Gabby, Chorus)
Home (Mary, Joseph, Chorus)
Careful, Carefree or Careless (Angel Chicago)
A Baby's Been Born (Angy, Jelly, Lofty Chorus)
Clap Your Hands And Be Cheery (Olly and Company)


CHARACTERS AND VOCAL RANGE
Olly (Baritone)
Gabby (Tenor)
Angy (Contralto)
Jelly (Soprano)
Lofty (Baritone)
Angel Chicago (Tenor)
Herod (High Baritone)
Mary (Contralto)
Joseph (Baritone)
1st Wise Man (Tenor)
2nd Wise Man (Baritone)
3rd Wise Man (Baritone)
Oxy (Non-singing)
Assy (Non-singing)
Villagers (Chorus)
Shepherds (Chorus)
Other Angels (Chorus)
Soldiers (Chorus)


HISTORY
Follow The Star was first produced at Chichester Festival Theatre in 1974, directed by Wendy Toye. Original cast members included Elaine Paige, Pattie Boulaye and Tony Robinson. There were further performances in Chichester in 1975 and 1977 and a subsequent revival in 1991/92 where Nicholas Parsons played the role of Olly and Ruthie Henshall as Mary.


Click here to return to our full list of musicals and operettas.
Warner/Chappell
For further information visit the Warner/Chappell website