Click here to return to our full list of musicals and operettas.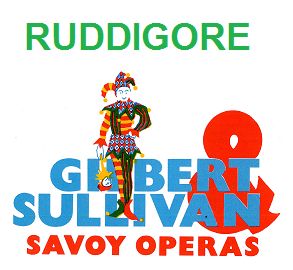 RUDDIGORE (Murray orchestration)
Music by Arthur Sullivan (orchestrated by Peter Murray)
Libretto and Lyrics by W.S. Gilbert

Administered for rental and amateur stage rights by Boosey & Hawkes in the UK.
Licensing performances
If you wish to apply to perform the work, then please send an email to musicals@boosey.com stating the following information only:
1) Name of school/society
2) Where you are (city/town)
3) What you want to perform
4) When you want to perform (if exact dates are not yet known, then please provide the month)
We will then send you an application form by email to complete, along with details of costs involved. Once the form is completed and returned by email, a licence will be emailed to you for signature. Once signed we will be able to send you the music at the date requested on your application form.
Details of hire requirements should be submitted on the application form. We can provide orchestral parts (details below). Vocal scores and libretti may be purchased from www.boosey.com/shop. Please note that you must use live musicians and the use of a backing track is strictly forbidden.
Information
INSTRUMENTATION
1 Flute
1 Oboe
1 Clarinet
1 Horn (optional)
1 Trumpet (optional)
1 Trombone (optional)
1 Timpani
1 Percussion
1 Piano (optional)
3 Violins I
3 Violins II
2 Violas
2 Cellos
1 Double Bass


THE STORY (The Village of Rederring in Cornwall; early in the 19th century)
To avoid inheriting the family curse, whereby the baronet of Ruddigore has to commit a daily crime or else die an agonising death, Sir Ruthven Murgatroyd has fled the ancestral home and, disguised as Robin Oakapple, settled Rederring. Here he has fallen in love with Rose Maybud but, being too shy to develop the relationship himself, he calls upon Richard Dauntless to court Rose for him. Overcome by Rose's beauty, Richard sets about capturing her for himself and nearly succeeds in doing so until Robin finally declares his love for her and wins her back. However, when it is revealed that Robin is none other than the true baronet of Ruddigore, and as such the rightful inheritor of the curse, Robin finds that wickedness does not come naturally to him. Sir Roderic, Robin's immediate predecessor who died for refusing to commit the daily crime, suggests that he mend his ways by carrying off a lady from the village. Robin's initial reluctance is quickly overcome when the ghosts give him a taste of the torments to come if he refuses, and Dame Hannah is duly abducted. She is furious at her treatment and becomes so violent towards Robin that he has to call upon Sir Roderic for protection. Answering his call for help, Sir Roderic is amazed to come face to face with the woman to whom he had once been engaged. In a flash of inspiration, an idea occurs to Robin; a baronet of Ruddigore who refuses to commit the daily must die and, therefore, to make such a refusal is tantamount to suicide; this is a crime in itself. Consequently, Sir Roderic should never have died and the curse should not have been handed on. Sir Roderic is now free to marry Dame Hannah and Robin can re-claim Rose.


PRINCIPAL CHARACTERS
Sir Ruthven Murgatroyd (disguised as Robin Oakapple, A Young Farmer)
Richard Dauntless (his Foster-Brother – a Man O'Wars- Man)
Sir Roderic Murgatroyd (the twenty first Baronet)
Sir Despard Murgatroyd (of Ruddigore – a Wicked Baronet)
Old Adam Goodheart (Robin's Faithful Servant)
Rose Maybud (a village Maiden)
Dame Hannah (Rose's Aunt)
Mad Margaret


PRINCIPAL MUSICAL NUMBERS
I Know A Youth (Rose, Robin)
From The Briny Sea (Richard)
When The Night Wind Howls (Sir Roderic, Chorus)
My Eyes Are Fully Open (Margaret, Sir Ruthven, Despard)
There Grew A Little Flower (Hannah, Sir Roderic)


Click here to return to our full list of musicals and operettas.
Warner/Chappell
For further information visit the Warner/Chappell website