Click here to return to our full list of musicals and operettas.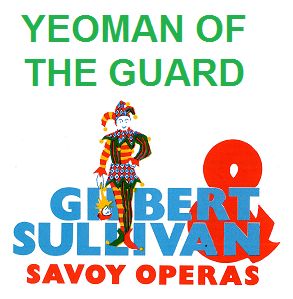 YEOMAN OF THE GAURD (Murray orchestration)
Music by Arthur Sullivan (orchestrated by Peter Murray)
Libretto and Lyrics by W.S. Gilbert

Administered for rental and amateur stage rights by Boosey & Hawkes in the UK.
Licensing performances
If you wish to apply to perform the work, then please send an email to musicals@boosey.com stating the following information only:
1) Name of school/society
2) Where you are (city/town)
3) What you want to perform
4) When you want to perform (if exact dates are not yet known, then please provide the month)
We will then send you an application form by email to complete, along with details of costs involved. Once the form is completed and returned by email, a licence will be emailed to you for signature. Once signed we will be able to send you the music at the date requested on your application form.
Details of hire requirements should be submitted on the application form. We can provide orchestral parts (details below). Vocal scores and libretti may be purchased from www.boosey.com/shop. Please note that you must use live musicians and the use of a backing track is strictly forbidden.
Information
INSTRUMENTATION
1 Flute
1 Oboe
I Clarinet
1 Horn
1 Trumpet
1 Trombone
1 Timpani
1 Percussion
1 Piano (optional)
3 Violins I
3 Violins II
2 Violas
2 Cellos
1 Double Bass


THE STORY (Tower Green; 16th Century)
Colonel Fairfax is awaiting execution at the Tower for sorcery. When his hoped-for reprieve fails to arrive, Sergeant Meryll and his daughter Phoebe, who is secretly fond of the Colonel, plots his escape. They plan to disguise him as Leonard Meryll who is shortly to join the Yeomen but whom no-one has yet seen. Unaware of their plan, Fairfax's last request is to die a married man, for without a wife his estate will fall into the hands of the kinsman who brought the charge of sorcery against him. A willing candidate is found in Elsie Maynard. Although her companion, Jack Point, is initially worried at the proposal, his doubts are soon dispelled by the promised dowry of 100 crowns and the assurance that she will be a widow within the hour. They are, therefore horrified when they hear that Fairfax has escaped. Jack and Wilfred subsequently conspire to pretend that Wilfred has shot Fairfax and seen him drown thereby releasing Elsie from the marriage contract. Fairfax, meanwhile, has discovered that Elsie is his wife (neither knew of the other's identity at the ceremony) and is about to reveal this to her when the shot is heard and Jack and Wilfred spin their tale. Elsie is distraught at the news of her husband's apparent death but is comforted by "Leonard", Alias Fairfax, who subsequently proposes to her. This enrages Phoebe who, in a jealous temper, confesses her feelings for "Leonard" to Wilfred, realising too late that she is thereby claiming to be in love with her brother! Wilfred quickly deduces the true identity of "Leonard" and in order to silence him, Phoebe consents to marriage. When her real brother brings new of Fairfax's reprieve, Elsie is initially distressed at the thought of leaving "Leonard" but overjoyed at the revelation that "Leonard" and Fairfax are one and the same. In vain, Jack appeals to Elsie to consider his feelings for her before falling broken hearted at her feet


PRINCIPAL CHARACTERS
Sir Richard Cholmondeley (Lieutenant of the Tower)
Colonel Fairfax (under sentence of death)
Sergeant Meryll (of the Yeomen of the Guard)
Leonard (his Son)
Jack Point (a strolling Jester)
Wilfred Shadbolt (Head Jailor and Assistant Tormentor)
Elsie Maynard (a Strolling Singer)
Phoebe Meryll (Sergeant Meryll's daughter)
Dame Carruthers (Housekeeper to the Tower)


PRINCIPAL MUSICAL NUMBERS
When Maiden Loves She Sits And Sighs (Phoebe)
Is Life A Boon?
I Have A Song To Sing, O (Elsie, Point)
Oh! A Private Buffoon Is A Light-hearted Loon (Point)
A Man Who Would Woo A Fair Maid (Elsie, Phoebe, Fairfax)


Click here to return to our full list of musicals and operettas.
Warner/Chappell
For further information visit the Warner/Chappell website