Click here to return to our full list of musicals and operettas.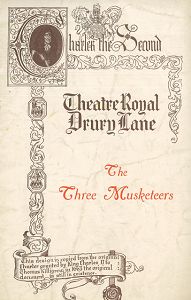 THREE MUSKETEERS
Music by Rudolf Friml; Lyrics by Clifford Grey & P.G. Wodehouse
Libretto by William Anthony McGuire, based on the novel by Alexandre Dumas

Administered for rental and amateur stage rights by Boosey & Hawkes in the UK.
Please follow this link to listen to extracts from a selection of songs from the musical.
Licensing performances
If you wish to apply to perform the musical, then please send an email to musicals@boosey.com stating the following information only:
1) Name of school/society
2) Where you are (city/town)
3) What you want to perform (Three Musketeers)
4) When you want to perform (if exact dates are not yet known, then please provide the month)
We will then send you an application form by email to complete, along with details of costs involved. Once the form is completed and returned by email, a licence will be emailed to you for signature. Once signed we will be able to send you the music at the date requested on your application form.
Details of hire requirements should be submitted on the application form. We can provide orchestral parts (details below), as well as piano vocal scores and libretti. Please note that you must use live musicians and the use of a backing track is strictly forbidden.

Information
INSTRUMENTATION
1 Conductor Score – annotated vocal score
1 Flute
1 Oboe
1 Clarinet I
1 Clarinet II
1 Bassoon
1 Horn I
1 Horn II
1 Trumpet I
1 Trumpet II
1 Trumpet III
1 Trombone
1 Bass Trombone
1 Percussion
1 Harp
3 Violins I
2 Violins II
2 Violas
2 Cellos
1 Double Bass


THE STORY (Early 17th century France)
Athos, Porthos and Aramis, that redoubtable trio of King Louis XIII's bodyguard, are enjoying their regular carousal at the Jolly Miller Inn. They are joined by the penniless but virile Gascon D'Artagnan. His natural resourcefulness is soon called upon, although not before he has fallen love with Constance Bonacieux. The trouble-making Cardinal Richelieu has heard that the Queen has given England's Duke of Buckingham a token of love, a diamond heart, which was a present from the King to her. Richelieu persuades the King to insist on the Queen wearing the jewel at a forthcoming gala. Comte de Rochefort and Lady de Winter are sent to London to recover the jewel and return it to Richelieu, who plans to produce it at the gala, thus revealing to King Louis his wife's treachery. Meanwhile, the Queen has sent Constance, her lady-in-waiting, to entreat the Musketeers to recover the jewel in time for her to wear it and confound her enemies. Upon arriving in London, the Musketeers find that Lady de Winter has already gained possession of the jewel. While pretending to be her lover, D'Artagnan snatches the jewel from her bosom. There is a hectic sword fight over and around Milady's bed. When Comte de Rocheford enters he is slain and the Musketeers hurry back to France. They are just in time to produce the jewel at King Louis' demand so that he may fasten it at the Queen's shoulder as he had done originally.


PRINCIPAL CHARACTERS
D'Artagnan
Constance
Athos
Porthos
Aramis
The Queen
Buckingham


PRINCIPAL MUSICAL NUMBERS
We're All For One (Athos, Porthos, Aramis)
My Dreams (The Queen)
Love Is For Thye Sun (The Queen, Buckingham, Constance)
Ma Belle (Aramis, Chorus)
Queen of My Heart (Buckingham)
Ev'ry Little While (Constance)


Click here to return to our full list of musicals and operettas.
Warner/Chappell
For further information visit the Warner/Chappell website