Deutsch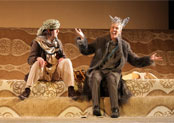 Photo: Bettina Stöß
WP Berlin 2012, Matthias Davids dir.
Akyol, Taner
Ali Baba und die vierzig Räuber (2011-12)
(Ali Baba and the Forty Thieves)
Duration: 100 minutes
Opera for children in two acts (seven scenes)
Libretto by Çetin Ipekkaya and Marietta Rohrer-Ipekkaya (G-Tk)
Scoring
2S,colS,M,2T,2Bar,3B; chorus; children's chorus; dance group; 2(II=picc).2(II=corA).2(II=bcl).2(II=dbn)-2.2.2.0-timp.perc-marimba-harp-pft-kaval-zurna-baglama-strings.
Abbreviations (PDF).
Territory
This work is available from Boosey & Hawkes for the world.
World Premiere
10/28/2012
Komische Oper, Berlin
Matthias Davids, director
Conductor: Kristiina Poska
Company: Komische Oper Berlin
Roles

| | |
| --- | --- |
| ALI BABA | Bass |
| ROSA, his wife | Soprano |
| VEHBI, their son | Tenor |
| KARAKACAN, Ali Baba's donkey | Singer-actor |
| CASSIM, Ali Baba's older brother | Baritone |
| AYSE, his wife | Mezzo-Soprano |
| SIRIN, a slave in Cassim's house | Coloratura Soprano |
| ROBBER CHIEF | Bass |
| PAZARBASI, head of the bazaar | Bass |
| MASTER IDRIS, taylor | Baritone |
| TOMTOM OSMAN, robber | Soprano |
| The thieves | from the children's chorus |
| Citizens, servants, merchants etc | from the chorus |
Time and Place
Bazaar – Forest and cave – At Cassim's house – Marketplace in a small town
Synopsis
A busy bazaar scene. Ali Baba sets off to collect wood in the forest, where he sees the forty thieves and secretly observes them opening their den. He follows them. Finding their treasure, he removes a little bit and leaves. His wife Rosa can hardly believe her husband was able to bring home such precious things.

Their son Vehbi and Sirin, slave of Ali Baba's greedy brother Cassim, have fallen in love and pledge their mutual love.

A gold coin has been left sticking to the scales that Rosa borrowed from her sister-in-law in order to weigh the treasure. Cassim keeps insisting on finding out the truth until Ali Baba finally leads him to the thieves' den. Once inside, he forgets the magic words to get out and is trapped. When the thieves return, they kill Cassim.

The tailor Idris is engaged to stitch the parts of Cassim's body back together. When Idris meets one of the thieves, who, incognito, is looking around for the robber of the treasure, he unsuspectingly shows him Ali Baba's house. Vehbi and Sirin notice the thief making a mark on the house and quickly make the same mark on all the houses in the neighbourhood with the same sign, whereupon the thieves fail to recognize the house. Ali Baba declares Sirin a free woman.

The thieves spare no effort to find the robber of their treasure. Finally, they seem to be successful when Ali Baba allows the thieves' chief, disguised as an oil merchant, to store a few barrels in his house and invites him for a feast on that same evening to commemorate Cassim's death and celebrate Sirin's freedom. The thieves' plot, however, is foiled by Vehbi and Sirin. During the feast, they instruct the dancers to sprinkle sleeping powder into the oil barrels in order to incapacitate the thieves hidden inside.

It is up to the audience's imagination to find out how the tale ends…
Moods
Comic, Poetic
Subjects
Magic/Mystery, Relationships, Literary
Mailing List
Sign up for news updates and offers via email
SIGN UP
ONLINE SCORES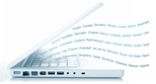 Explore our library of over 1000 online scores
VIEW SCORES