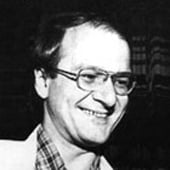 Claude Vivier
1948 - 1983
Considered by many to be the greatest composer Canada has yet produced * Murdered at the age of 34, left behind 49 compositions in a variety of genres, including opera, orchestral works, and chamber pieces * In early 1970s, studied composition with Stockhausen in Cologne * A visit to Bali in 1976 proved pivotal, causing him to re-evaluate his ideas on the role of the artist in society * Visionary works that followed featured texts in an invented language, modal melodies harmonized by a complex overtone series, and shimmering orchestration * Called by György Ligeti "the greatest French composer of his generation" * Other advocates include Mauricio Kagel, Reinbert de Leeuw, David Robertson, and Dawn Upshaw

Works by Claude Vivier include:
Lonely Child (1980) for soprano and orchestra
Kopernikus (1979) opera in two acts
Siddhartha (1976) for orchestra

> Explore Claude Vivier and his music in our comprehensive brochure.
Looking Ahead: Hiérophanie for soprano and ensemble receives it French premiere with Ensemble Intercontemporain on September 19 in Paris. The ensemble also takes the piece to Berlin, September 22.
"Many things can be said about the music of Claude Vivier, but one thing is certain: No one who hears it is quite the same afterward." —Globe and Mail