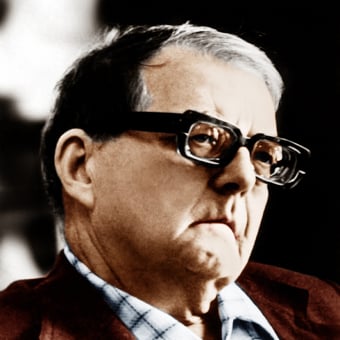 Dmitri Shostakovich
1906 - 1975
Shostakovich was one of the leading composers of the 20th century, and was Soviet Russia's most important symphonist. Unlike some of his composer contemporaries, he lived his adult life entirely inside the USSR - and his music was deeply affected by political events there, especially under Stalin. Whilst an absolute master of large-scale forms, the character of his music, with its invitingly enjoyable dissonances, has a humorously powerful sense of mockery and irony mixed with grandeur and despair.

"What are human emotions? Not only lyricism, sadness and tragedy, but laughter. When a listener laughs loudly during my symphonic concert, it doesn't shock me a bit. On the contrary, it pleases me." — Dmitri Shostakovich

In 1936, the opera Lady Macbeth of the Mtsensk District caused a scandal with the Soviet authorities, and Shostakovich was subjected to an official campaign of repression, harassment and vilification. In 1948 this humiliating campaign began again, and this time continued up to and beyond the death of Stalin (1953). In 1960, against his wishes, he was persuaded into joining the Communist Party (CPSS) - a low point in his life marked by his composing his 8th Quartet as "an obituary for myself".

Two cycles, of 15 symphonies and 15 string quartets, are the peaks of his output, but his violin, cello and piano concertos are played by most of the world's soloists, and he also made a great contribution to the progress of film music. During World War ll, his 7th Symphony, the 'Leningrad', became an emblem all over allied world for the struggle against Fascist Germany; and his monumental 5th Symphony (1937) is one of most popular orchestral works of the 20th century.
Bestselling Titles by Dmitri Shostakovich