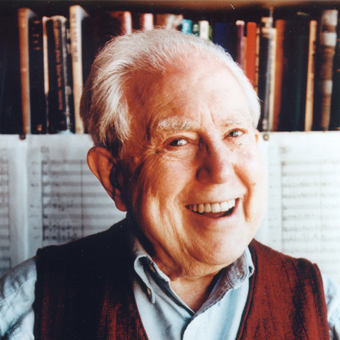 Elliott Carter
1908 - 2012
"There is often wit and humour to be heard in [Carter's] work; anger in some of the earlier big pieces; increasing lyricism and beauty in the compositions of the recent decades. He is America's great musical poet." — Andrew Porter, Musical America

The first composer to receive the US National Medal of Arts, Elliott Carter's career has now extended through seven decades. After Stravinsky dubbed his Double Concerto (1961) and his Piano Concerto (1967) as "masterpieces", recent years have seen an outpouring of major orchestral scores and numerous chamber works, and his style (an invention uniquely his own) has been marked by transparency, clarity of texture and directness of structure. His work is demanding and intricate, but it is also rewarding: it conveys the feeling of many things going on at once, and often mirrors human interactions and relationships.

"One of America's most distinguished creative artists in any field" — Aaron Copland

Works by Elliott Carter include:
Triple Duo (1983) for chamber ensemble
Symphonia for orchestra: Partita (1993), Adagio Tenebroso (1994), Allegro Scorrevole (1996)
What Next? (1999) opera in one act

Click on the links above for further information.
Bestselling Titles by Elliott Carter