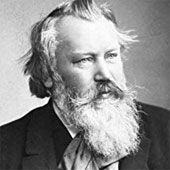 Johannes Brahms
Johannes Brahms was a key figure in the development of romantic music during the nineteenth century. Viewed by many as a symphonic successor to Beethoven and as a natural opponent to the modern school of Berlioz, Liszt and Wagner, he earned a reputation as a conservative romantic figure, resistant to change. Yet his attempts to interrelate his thematic material and his experiments with developing variation showed a radical side that was highly influential on such later figures as Schoenberg.

Brahms received his first musical training from his father Johann Jakob, and from the age of seven helped to supplement the meagre family income by playing piano in restaurants, theatres and bars. By the age of ten, Brahms had become known as a child prodigy. To further his income, Brahms began a tour with a Hungarian violinist, Eduard Remenyi and during this, met both the virtuoso violinist Joseph Joachim, and also the great Franz Liszt. Unfortunately, Brahms supposedly fell asleep during a performance of Liszt's recently composed piano Sonata and by doing so, subsequently offended his touring partner. The tour soon ended.

So many aspects of Brahms' life are shrouded in mystery; none more so than his relationship with the wife of Robert Schumann, Clara. Indeed, like Robert Schumann, Brahms often used codes in his work to convey secret (or not-so-secret) wishes and longings. Debates concerning the existence of these clandestine practices still rage among the experts.

Brahms was a master of both large scale forms, such as his piano concertos, Ein Deutsches Requiem and four symphonies, but also small-scale miniatures and chamber music. His string sextets and piano trios are some of the most accessible and beautiful chamber music works. Like so many composers during this period, Brahms was an outstanding pianist, and his piano writing in the Hungarian Dances, Paganini Variations and Piano Sonatas is among the most technically challenging in the repertoire.

Brahms's music ranges from the melancholy and expressive, to the invigorating and inspiring. Ever-popular and admired, he is one of the truly great composers.
Bestselling Titles by Johannes Brahms