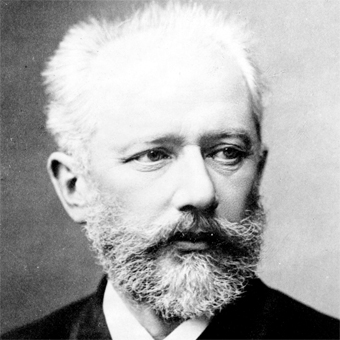 Peter Tchaikovsky
1840 - 1893
Tchaikovsky, who is most famously known for his triumphant nationalistic '1812 Overture' and the favourite Christmas ballet 'The Nutcracker', actually led a rather tortured life. He suffered from depression, a broken marriage, ensuing guilt over his homosexuality, and (more bizarrely) a deep & inexplicable fear that his head would fall off when he was conducting. Just to add to his strange situation, for a long time he was financially supported by a wealthy widow, Nadieshda von Meck, who insisted they never actually meet!
Poignant, therefore, was his claim that the beauties found only in Music were "a perpetual reconcilement to life."

His symphonic works, which include lyrical and dramatic elements, show less constraint in the handling of the symphonic form than many of his Western contemporaries; And his ballets, in particular 'The Nutcracker', achieve a synthesis between symphonic and dramatic forms that put the genre on a level with symphonies or operas. His refined sense of instrumentation and the expressiveness of his music unfolds both in an extroverted character - as in his stage works - and in an inward, psychological direction - as with his 6th Symphony (the 'Pathéthique'), one of the great symphonic masterpieces of all time.

Suggested listening:
Symphony No2 - which combines Russian folk song with classical form.
Symphony No4 - one of his greatest works.
Bestselling Titles by Peter Tchaikovsky