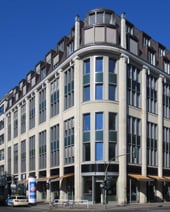 Berlin - German Speaking territories
The first Boosey & Hawkes office opened in 1949 in Bonn to serve the German market with its extensive network of orchestras and opera houses. Following German reunification the office relocated to Berlin in 1997, soon after the acquisition of Bote & Bock, to form a new joint company. The Berlin company's influence as a publisher has been strengthened further with the purchase of Anton J. Benjamin in 2002 and a growing roster of composers.
Our Berlin office serves Germany, Austria and Switzerland.
Address
Boosey & Hawkes Bote & Bock GmbH
Anton J. Benjamin GmbH
Musikverlag Hans Sikorski GmbH
Oranienstraße 164
10969 Berlin
Germany


Telephone: +49 (30) 2500 1300
Fax: +49 (30) 2500 1399
E-Mail: [email protected]

View Map
Browse our department contacts
: Geschäftsführung / Managing Director's Office
: Rechte / Grand Rights and Permissions
: Herstellung / Production
: Dramaturgie, Werbung und ÖA / Promotion
: Notenbibliothek / Rental Library
: Buchhaltung und Finanzen / Finance