In Conversation with Béla Fleck
(July 2014)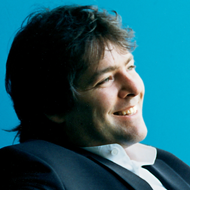 The illustrious banjoist-composer reflects on The Impostor Concerto and fills us in on what lies ahead.
The Impostor Concerto was premiered nearly three years ago. Has your approach to performing the work changed?

Hopefully I'm a lot better at playing the Concerto than when I started. I feel much more confident performing it now after 20-some performances. I have learned to take the reins and lead the piece, rather than be meek.

Did you look to any specific musical style when composing this work?

I tried not to impose any particular style, preferring to allow my subconscious to show me the way. I did a lot of free writing, and created a body of themes and ideas to work from. Then in the assembly process, I constantly played around with possibilities until I found the things that I loved.

The Impostor Concerto will get its US West Coast premiere this August at the Cabrillo Festival of Contemporary Music. What makes this upcoming performance special?

I have heard wonderful things about Cabrillo, and I'm proud to have been invited to participate. I understand that the fantastic talent that is assembled is doing it because they love performing new music. I'm looking forward very much to working with Marin Alsop.

What has your experience been like rehearsing this work with orchestras?

After nearly every performance with a new orchestra, I've been able to tweak a few things—dynamics, orchestration, etc. So the tight rehearsal schedules that orchestras must abide by are now spent on things that really matter. It goes better every time.

Do you see the banjo becoming more prevalent in classical music?

I do wonder. My own interests and the banjo's are combined; the more music that is created that allows interaction between classical musicians and banjoists, the more chance there is of the banjo having a role in the future of American serious music. And as I continue to compose and perform, I get to interact with symphonies, string quartets, and other classical configurations, and will hopefully continue to grow as a composer. There will be other banjoist-composers, but I have a lot of responsibility, being one of the first.

What do you think are some of the difficulties in bringing the banjo to a classical audience? Or is there a sense of ease?

There are certainly people running orchestras who consider this sort of thing to be a frivolous novelty, and won't allow it on their schedule, and of course I understand why they might think that. But the orchestras that have tried it seem very happy with the result, with great audience turnouts, happy musicians… apparently the piece stands up well enough to not make them look bad!

Are there more classical works we can look forward to in the future?

Yes. I'm up to my 4th commissioned classical work. The Impostor Concerto, commissioned by Nashville Symphony was Number 1. Number 2 was a piece for banjo and string quartet commissioned by Butler University. Number 3 is a piece for banjo and chamber orchestra, for Sewanee: The University of the South, which premieres this month. Also, four of the orchestras I have played with are getting together to commission a second banjo concerto, and that is a true vote of confidence. So this experiment is bearing fruit, and I am thrilled to be able to continue to explore collaborating in this idiom.

Interview conducted by Patrick Gullo.
> News Search
Mailing List
Sign up for news updates and offers via email
SIGN UP
ONLINE SCORES