New boosey.com on the move
(October 2018)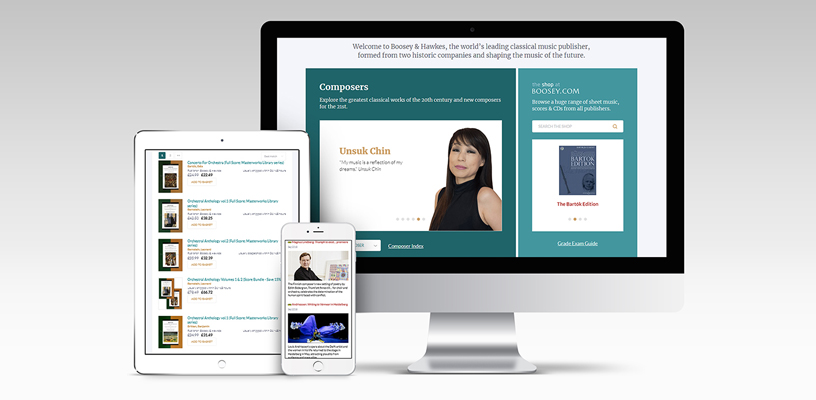 At work, at home, or travelling, the new boosey.com offers a wealth of information on composers and their music – whatever your device.
The launch of the redesigned boosey.com website makes a world of music available wherever you are – on the move with your mobile, at home on tablet, or at the office on desktop. With a fresh new look, simplified navigation and powerful search engines you can explore our composers and buy printed music from The Shop at boosey.com.
Composers
As the world's leading publisher specialising in classical music, Boosey & Hawkes represents works by more than 6500 composers via its website and maintains over 200 microsites for leading figures from the 20th and 21st centuries.
Works
Boosey.com provides details for over 13,000 works in the Boosey & Hawkes catalogue – including full instrumental scorings – from repertoire classics by Prokofieff, Stravinsky, Copland and Bernstein to the latest contemporary scores.
Performances
The website lists over 100,000 performances – both past and future – with details of conductors and performers. You can find forthcoming events by your favourite composers and search the database of contemporary music performances since 1985.
The Shop at Boosey.com
The online shop offers not only Boosey & Hawkes publications but also sheet music from all international music publishers. With over 350,000 classical and educational products it is the one-stop shop for all your music needs and ships globally.
Online scores
On boosey.com you can view over 1750 scores online for free after a simple registration. The site also links to nkoda, the new online subscription service which offers over 7000 scores from the Boosey & Hawkes catalogue.
Audio Visual
You can watch and listen to over 4000 videos and audio clips, including a series of web interviews with composers exploring and explaining their music.
Rental & Licensing
Links are provided for rental of performing materials via Zinfonia and a series of forms help guide you through the various licensing processes. The Film, TV and Advertising area showcases the use of Boosey & Hawkes music synchronised with visuals and links to our licensing and creative partners at Concord Music Sync.
With so much music to explore on mobile, tablet and desktop, we hope you visit and enjoy the new boosey.com.
The new boosey.com is optimised to work best with latest versions of Google Chrome, Firefox, Safari, Microsoft Edge and Internet Explorer 11.

Boosey & Hawkes Composer News