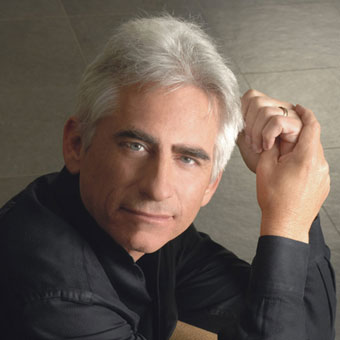 David Benoit
b. 18 August 1953, Bakersfield, California
English
Deutsch
Over the last quarter century, composer and pianist David Benoit has been a passionate musical innovator committed to the exploration of many different art forms on the American landscape. A five-time GRAMMY nominee for his seminal contributions to the genre of contemporary jazz, Benoit has also embarked on a multi-faceted journey into the classical music world. This has led to guest pianist and conductor spots with numerous top orchestras, four performances at Carnegie Hall (including one with Leonard Bernstein at the podium), a performance on the steps of the Capitol Building with the National Symphony for the annual PBS July 4th event, and the creation of his new orchestral work,
Dolores Del Carmen
, and chamber composition,
Music for Two Trios
. Both new works reflect Benoit's intentional recent shift toward more classically-focused projects.
David Benoit's symphonic composition,
Dolores Del Carmen
, will make its world premiere on June 7, 2008, at the George and Sakaye Aratani Japan America Theatre in the Japanese American Cultural and Community Center, Los Angeles. Commissioned by the Asia America Symphony, Benoit was deeply inspired to write the new work, as it offers a rich and lasting tribute to his great aunt, Dolores Ellsworth. More widely known to the world as the vivacious Dolores Del Carmen—a noted Flamenco dancer who regularly performed with the legendary José Greco—Dolores' life, colorful and at times tragic, will be played out to full effect at the premiere with Sir Angel Romero of the famed "Royal Family of the Guitar" as soloist.
At the request of the Ahn Trio, Benoit was commissioned to write a new work for the celebrated sister trio, as part of the Laguna Beach Festival's first series of specially commissioned works written for the festival's artists-in-residence. A suite in three movements—"Red, White, and a Little Bluegrass", "Major Minor Interlude", and "Conversation"—
Music for Two Trios
(2006) was well-received at its January 2007 world premiere. Peter Lefevre of the OC Register remarked that "…one could hardly ask for a better example of the Ahn's artistry and mutability, or of Benoit's sophisticated ear. The work's final movement, "Conversation," begins with a fussy, snooty theme in the hands of the cello and violin, and is interrupted after a few bars by a pounding jazz figure… The two musical worlds eye each other warily for a few moments and the fight is on…Benoit has synthesized a wide range of influences here, and created a charming, complex, memorable work. World premieres are not quite as rare as second performances. This is a piece that deserves a life beyond this past weekend."
Benoit has also written
Kobe
, a symphonic tone poem about a little girl growing up in postwar Japan.
Kobe
made its debut with the Philippine Philharmonic in 2001 and was also performed in 2003 with Kent Nagano conducting the Berkeley Symphony. His first piano concerto,
The Centaur and the Sphinx
, was completed in 2004.
Benoit has lent his conducting talents and piano performance skills to a wide variety of settings. As a conductor, he has performed the music of Bernstein, Aaron Copland, Igor Stravinsky, Camille Saint-Saens, Mozart, Francis Poulenc and Ellen Taaffe Zwilich. He has led the Los Angeles Philharmonic, San Francisco Symphony, Atlanta Symphony Orchestra, Dresden Philharmonic, Philippine Philharmonic, Toledo Symphony, New World Symphony, San Antonio Symphony, San Jose Symphony, Henry Mancini Institute Orchestra, and the National Symphony Orchestra.
In 2007, David Benoit was honored at the Asia America Symphony Association's
Bravo Awards Gala
for his seven years of service as Music Director and Conductor of AASA and as Founder and Music Director of the Asia America Youth Orchestra. Through his leadership, Benoit has established the AASA's "International Composition for Orchestra Competition." Now in its 6th year, young composers from around the world, writing in various genres ranging from traditional, classical, jazz, to popular contemporary, are encouraged to submit an original orchestral composition. Each year the winning composition is premiered by the Asia America Youth Orchestra, conducted by Maestro Benoit, and the student composer is awarded a scholarship.
His involvement as a guest educator with the Mr. Holland's Opus Foundation has taken him to classrooms throughout the country, where he has devoted many hours to teaching children about music; in 2001, he won the foundation's coveted "excellence in music education" award. He has also been involved with the GRAMMY in the Schools Foundation and was voted Music Mentor of the Year by the International Foundation of Education and Performing Arts (IFEPA).
Benoit has also been a popular film and television composer. His most notable film scores are
The Stars Fell on Henrietta
, produced by Clint Eastwood and starring Robert Duvall; and
The Christmas Tree
, produced by Sally Field, voted Best Score of 1996 by Film Score Magazine. His long association with Charles Schulz and the famed Peanuts realm led to over ten years of composing music for Peanuts TV specials on CBS. In addition, he has written the themes for the long running soap opera
All My Children
(ABC),
Sisters
(NBC) and scored the movies of the week
Final Descent
(with the late Robert Urich) and
Cadillac Jack
(starring Clint Black).
His career as a contemporary jazz pianist began in 1977 and includes 25 solo recordings over the past 28 years. Many of these, including his 1987 GRP Records debut
Freedom At Midnight
and its GRAMMY nominated 1988 follow-up
Every Step Of The Way
, are considered influential classics in the genre, which came to be known as Smooth Jazz. Among his other GRAMMY nominations are those for Best Instrumental Composition (for "Dad's Room," from 1999's
Professional Dreamer
) and Best Large Jazz Ensemble Performance (for the GRP All-Star Big Band). Combining two of the musical loves of his life, he recorded 1996's
American Landscape
with the London Symphony Orchestra. He was voted Keyboardist of the Year for 2000 and 2001 by the Oasis Smooth Jazz Awards, and landed in the Top Ten on Billboard's Contemporary Jazz Chart with
Fuzzy Logic
, which spawned the #1 hit instrumental single "Snap!"
Benoit has arranged, conducted and performed music for many popular pop and jazz artists over the years, including Russ Freeman and the Rippingtons (he was involved with the band in its formative stages), Kenny Loggins, Patti Austin, Dave Koz, Kenny Rankin, Faith Hill, David Lanz, Cece Winans, David Pack, David Sanborn, the Walt Disney Organization and Brian McKnight. He also paid homage to one of his chief influences, Leonard Bernstein, by playing, arranging and performing on
The Songs of West Side Story
, an all-star project produced by David Pack, which achieved gold sales status.
Born in Bakersfield, California, Benoit grew up in the South Bay of Los Angeles. He studied piano at age 13 with Marya Cressy Wright and continued his training with Abraham Fraser, who was the pianist for Arturo Toscaninni. He focused on theory and composition at El Camino College, studying orchestration with Donald Nelligan, and later took film scoring classes taught by Donald Ray at UCLA. His education in music conducting began with Heiichiro Ohyama, assistant conductor of the Los Angeles Philharmonic, and continued with Jan Robertson, head of the conducting department at UCLA. He began his career as a Musical Director and Conductor for singer Lainie Kazan in 1976 before moving on to similar roles with singer/actresses Ann Margaret and Connie Stevens.
Benoit has performed at the White House for three U.S. Presidents: Bill Clinton, Ronald Reagan and George Bush, Sr. Other dignitaries he performed for include Colin Powell, Hillary Clinton, Al Gore, Senator Dick Durbin and former Los Angeles Mayors Tom Bradley and James Hahn.
He and his wife Kei are the parents of an adopted daughter, June Koko, and reside in Palos Verdes, California.
David Benoit is published by Boosey & Hawkes.
February 2008
Bestselling Titles by David Benoit