New Shostakovich Symphony Editions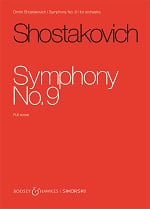 Boosey & Hawkes and Sikorski are pleased to announce the launch of a revised and corrected new edition of all 15 symphonies by Dmitri Shostakovich.
October sees the launch of a new revised and corrected edition of all 15 Shostakovich symphonies, bearing fruit from the merging of publishers Boosey & Hawkes and Sikorski. The first group of four releases spans the composer's life from his youthful Symphony No.1 through Nos.9 and 11 to his enigmatic farewell with No.15.
Due to be completed in readiness for the 50th anniversary of the composer's death in 2025. The first four volumes in the edition, Nos.1, 9, 11 and 15, are released as large format study scores for optimal legibility. All scores and the related orchestral parts have been newly computer typeset, and the orchestral parts are also compatible for performance use with scores in 'The New Collected Works of Dmitri Shostakovich'.