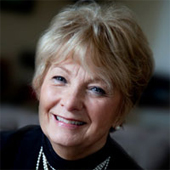 Doreen Rao
"For her, every note has an urgent meaning, not just within the composition,but within the wider world." Robert Everett Green, Toronto Globe and Mail
Doreen Rao is a globally distinguished conductor and master teacher committed to the dynamic intersections linking choral artistry and social consciousness. Recipient of the 2019 Robert Shaw Lifetime Achievement Award by the American Choral Director's Association for her extraordinary contributions to choral music, Doreen's seminal work has inspired generations of young singers, accomplished choral teachers and celebrated conductors.
Doreen's illustrious career began as a professional singer and choral teacher. During her formative years in Chicago, she served as Assistant Professor of Voice at Roosevelt University, and began her long association with the Chicago Symphony Chorus and Orchestra. At the invitation of Margaret Hillis, Doreen prepared the Glen Ellyn Children's Chorus for concerts and recordings, winning four Grammy Awards and a Grand Prix du Disque with Sir George Solti, Margaret Hillis, Claudio Abbado and James Levine. As the first female assistant conductor of the Chicago Symphony Chorus, Doreen's apprenticeship with Margaret Hillis informed her orchestral and choral conducting with a legacy of deep musicianship and enduring professionalism.
Doreen founded and chaired the first ACDA National Committee for Children's Choirs, organizing divisional and state leadership across the United States. Commissioning and premiering the music of living composers throughout her career, Doreen created and edited a massive library of choral repertoire for music education, published by Boosey & Hawkes as Choral Music Experience (CME), https://www.halleonard.com. During the same period, she founded the CME Institute and Certification Courses in Choral Teacher Education, an innovative and on-going professional development curriculum for emerging conductors and choral educators, www.choralmusicexperience.com.
Following her graduate studies at Northwestern University, Doreen accepted a dual- appointment as Director of Choral Programs and Associate Professor of Music Education at the University of Toronto. The first woman to hold an endowed chair in conducting in Canada, Doreen carries the prestigious Elmer Iseler Chair in Conducting Emeritus in perpetuity. During her two-decade tenure at the Faculty of Music, she regularly conducted the University Symphony Orchestra and Chorus in a wide range of choral-orchestral masterworks. She founded and conducted the MacMillan Singers and Bach Festival Singers for frequent concert collaborations with the Toronto Symphony Orchestra led by Maestros Peter Oundjian, Bernard Labadie, and Gianandrea Noseda. Collaborating with the distinguished German conductor and Bach scholar Helmuth Rilling, Rao also led Canada's International Bach Festival, hosted by the University in partnership with the Toronto Symphony Orchestra and the International Bach Academy, Stuttgart.
From 2008, Doreen prepared and conducted the Buffalo Philharmonic Chorus for concerts with the Buffalo Philharmonic Orchestra led by Grammy Award-winning conductor, Joanne Falletta. She made regular appearances with both the BPO and the Chautauqua Symphony Orchestras, conducting choral masterworks featuring the music of Charles Ives, Mendelssohn's Symphony No. 2 "Lobgesang", Puccini's Messa di Gloria, the American premiere of Puccini's early opera Cessato il suon dell'armi, Bach Magnificat, Bernstein's Chichester Psalms and MASS (Rao edition).
Doreen left the University of Toronto in 2012, returning to Chicago where she maintains an active career guest conducting. She enjoyed her tenures with the Chicago Chamber Choir and the Tampa Bay Master Chorale, where she worked with Maestro Michael Francis and the Florida Orchestra. As a Visiting Professor at Ionian University, Doreen led graduate conducting and summer academy courses in Corfu, Greece. She currently teaches at the Northwestern University Bienen School of Music.
Among many other books and award-winning choral publications with Boosey & Hawkes, Doreen is the author of Circle of Sound Voice Education, a landmark text that serves as the philosophical and practical foundation for her innovative Zen approach to singing, conducting and choral teaching. She recently signed with GIA Publications in Chicago as Series Editor of the new Global Encounters for Young Choirs, www.giamusic.com. Doreen now lives in the Ravinia District of Highland Park with her twin grandchildren, Anna and Alexander (age six) and their dog Felix.
Doreen Rao, PhD
590 Pleasant Ave.,
Highland Park, IL 60035
USA +1 (312) 810-7644
[email protected]
www.doreenrao.com
Access to Doreen Rao's full Curriculum Vitae may be found at www.doreenrao.com.
Bestselling Titles by Doreen Rao