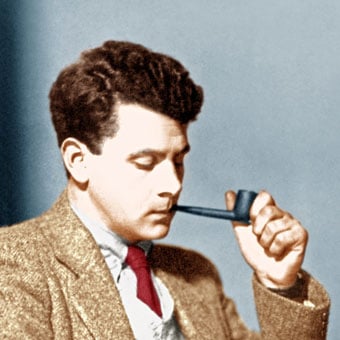 Even before he was 18, Finzi's father, three older brothers and teacher had all died. He was sharply aware of the fragility and transience of human existence, and so it's small wonder he explored this theme in many of his later works.

His early musical influences included Parry, Elgar and Vaughan Williams, and song composers such as Ivor Gurney, and his early successes included the Thomas Hardy cycles 'A Young Man's Exhortation' and 'Earth and Air and Rain', which established him as a masterly & sensitive setter of poetry - his oeuvre includes over 100 songs for soloist or choir.

Although clearly skilled as a miniaturist, after World War II he also embraced larger forms including 'Clarinet Concerto', 'For St Cecilia' and 'Intimations of Immortality'. His works are very lyrical, deeply responsive to words yet subtly understated, and often elegiac in tone, mingling human pain and natural beauty.

Despite the pastoral calm emanating from many of his works, Finzi was an active person, championing neglected composers - a pursuit he continued even when his own frailty was taking advantage of him in his 50s in the form of leukaemia. He is one of most popular of 20th century British composers.
Bestselling Titles by Gerald Finzi