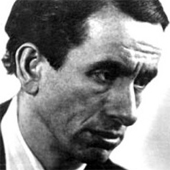 Hans Krása
b. 30 November 1899, Prague d. 30 November 1899, Auschwitz
English
Deutsch
Hans Krása, born to Czech-German parents in Prague on 30 November 1899, had a broad musical education and began a promising international career as a cosmopolitan artist during the twenties. His meeting with Alexander Zemlinsky greatly influenced his further development. Zemlinsky became his teacher and made him an assistant at the opera of the New German Theatre in Prague (which had been under his direction since 1911); later on, he arranged Krása's appointment at the Kroll Opera in Berlin. In May 1921, Zemlinsky included Krása's opus 1, Grotesques for Orchestra and Voice (Orchestergrotesken), based on Christian Morgenstern's 'Songs of the Gallows', in the programme of a philharmonic concert. Krása moved to Paris where he became a student of Albert Roussels for a short time. The success that the performance of his Grotesques had brought him in Prague was continued in Paris with the premiere of the first two movements of his Symphony for Small Orchestra in April 1923 in the Théâtre des Champs-Elysées and his String Quartet No.1, written when still in Prague. Paris was the starting point of Krása's international career: in 1926, Serge Koussevitsky conducted the complete Symphony in Boston, before it represented Czechoslovakia at the Festival of the International Association of Music in Zurich in 1927.
In 1925, Max Brod had helped to arrange a contract between Krása and the most successful music publisher of that time, the Vienna-based Universal Edition. After his return to Prague, Krása's major project of the late twenties was to write a large opera. Various other projects, including some in collaboration with Brod, were abandoned. In 1928, Krása began work on his setting of Dostoevsky's story Uncle's Dream to a libretto by Rudolf Thomas, chief editor of the Prager Tagblatt, and the poet Rudolf Fuchs. Though the composition was finished in 1930, it was not until three years later that George Szell performed the opera, now called Engagement in a Dream, at the German Theatre in Prague. By then, however, it was too late for follow-up performances of the successful production in Germany. Although Krása, due to his upbringing and artistic education, had always been close to German culture and language, he responded to the Nazi terror against Jews by refusing to compose music based on German texts from then on. In 1935, the music he wrote for the play Mládi ve hre (Youth at Play, a play about the generation gap which, in Friedrich Torberg's translation, had been successful even in Germany under the title Anna sagt nein) marked the beginning of his friendship and collaboration with the writer Adolf Hoffmeister. It was continued in 1938 with the children's opera Brundibár. The Song of Anne from Youth at Play, which had become very popular, was reused by Krása for the variation movement of his Chamber Music for Harpsichord and Seven Instruments (1935/36) as well as in Theme and Variations for string quartet (1936). Brundibár was written in 1938 for a public competition for children's operas; the planned public performance, however, was thwarted by the Nazi attack on Czechoslovakia. In the winter of 1942/43, a secret performance with a piano took place in a children's home in Hagibor; in August of the same year, the composer, together with many of his artist friends, had been deported to Theresienstadt. There, in 1943, Krása wrote a new score adapted to the instruments available there. Before Kràsa's deportation to Auschwitz, where he was killed in autumn 1944, Brundibár was performed over 50 times at the camp. The piece, which lasts about half an hour, became a symbol for music itself in Theresienstadt. Apart from the second version of Brundibár, Krása's compositions written in Theresienstadt included Three Songs for Baritone, Clarinet, Viola and Violoncello based on verse by Rimbaud and Nezval (1943), the string trios Dance and Passacaglia & Fuga (1944) as well as the Ouverture for Small Orchestra (1943/44), which was not performed until 1993 in Jerusalem.
Krása's output was small; however, "what he is writing has an instinctive assurance", as Viktor Ullmann said at the time. His works are considered to be as refined as Ravel's. The uniqueness of his music is due to his characteristic blend of an expressiveness found in the late romanticism of the Vienna fin de siècle, which he came to know through Zemlinsky, with a clarity, esprit and clear-cut sense of rhythm that he adopted from French music. The "clear, lively, light" character of Krása's music, as the French critic Vuillermoz put it in 1925, combines with a sense of the grotesque and of irony. The Moravian music tradition also had a significant influence on Krása, as is evident in his later works.
Reproduction Rights
This biography can be reproduced free of charge in concert programmes with the following credit: Reprinted by kind permission of Boosey & Hawkes
Bestselling Titles by Hans Krása