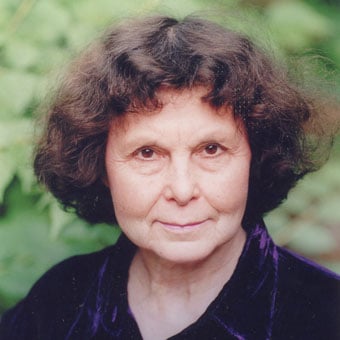 Sofia Gubaidulina
b.24 October 1931, Tschistopol
Sofia Asgatovna Gubaidulina was born 24th October 1931 in Tschistopol, a small town on the Volga in the Tartar Republic of the USSR. Her father was Tartar, but her mother was Russian and Russian is her native language. When she was small, the family moved to Kazan. She graduated from the Kazan Conservatory in 1954, before transferring to the Moscow Conservatory, where she finished in 1961 as a post-graduate student of Vissarion Shebalin. In the Soviet period she earned her living writing film-scores, while reserving part of every year for her own music. She was early attracted to the modernist enthusiasms of her contemporaries
Schnittke
and
Denisov
but emerged with a striking voice of her own with the chamber-orchestral
Concordanza
(1970). During this period she built up a close circle of performing friends with whom she would share long periods of improvisation and acoustic experiment. Out of these experiences came many works, such as the
Concerto for bassoon and low instruments
(1975, for the bassoonist Valery Popov),
The Hour of the Soul
(1976, rev.1988, for the percussionist Mark Pekarsky with voice and orchestra) and ground-breaking pieces for the accordionist Friedrich Lips like the frequently played
De Profundis
(1978). From the late 1970s onwards Gubaidulina's essentially religious temperament became more and more obvious in her work. Already in Soviet times, when the public expression of religious themes was severely repressed, she was writing pieces like the piano concerto,
Introitus
(1978), the violin concerto for Gidon Kremer,
Offertorium
(1980, rev.1986), and
Seven Words
for cello, accordion and string orchestra (1982, published in the USSR under the non-religious title 'Partita'). Since the arrival of greater freedom under Gorbachev, religious themes have become her overwhelming preoccupation. Many of her religious works are on a large scale, including a cello concerto inspired by a poem about the Last Judgement (
And: The feast is in full progress
, 1993),
Alleluia
(1990), for chorus and orchestra, a concerto for cello and chorus for Mstislav Rostropovich and, most recently, the colossal
Passion according to St.John
(2000), a German commission to celebrate the Millennium, given its first performance by the soloists, chorus and orchestra of the Kirov Opera conducted by Valery Gergiev. Much of Gubaidulina's more recent work also reflects her fascination with ancient principles of proportion such as the Golden Section.This is particularly clear in her chamber cantatas,
Perception
(1983) and
Now always snow
(1993) as well as in orchestral pieces like
Stimmen… verstummen…
(1986),
Pro et Contra
(1989) and
Zeitgestalten
(1994), this last being written for Simon Rattle and the City of Birmingham Symphony Orchestra. Since the collapse of the Soviet Union, Gubaidulina has lived in a small village outside Hamburg, Germany, where she delights in the peace and quiet she needs to fulfil the huge number of commissions she has received from all round the world. Sofia Gubaidulina is published by Boosey & Hawkes.
Reproduction Rights
This biography can be reproduced free of charge in concert programmes with the following credit: Reprinted by kind permission of Gerard McBurney/Boosey & Hawkes
Bestselling Titles by Sofia Gubaidulina