George Benjamin: Lessons in Love and Violence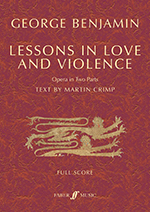 Premiered in 2018, the 90-minute opera Lessons in Love and Violence delves into the dark and turbulent events of Edward II's life and death.
George Benjamin and Martin Crimp's third collaboration, it unfolds as a taut slow-burning arch of seven tableaux. This full score is a perfect accompaniment to the previously published vocal score and text.