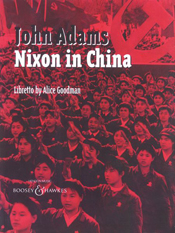 Composer, conductor, and creative thinker—John Adams occupies a unique position in the world of American music. His works, both operatic and symphonic, stand out among contemporary classical music.
Recently placed as the most frequently performed living American composer of orchestral music, John Adams capitalizes on the rhythmic vitality of Minimalism for late-Romantic orchestral harmonies and colors and has brought contemporary history to opera with his post-modern theatrical works Nixon in China (1987), The Death of Klinghoffer (1991), and Doctor Atomic (2005). Adams has also tackled urgent social issues with passion and empathy, both in his operas and in such works as I Was Looking at the Ceiling and then I Saw the Sky, El Dorado and The Wound-Dresser.
All of these works and many more have been published by Boosey & Hawkes and can be found below.