Britten's War Requiem assumes dramatic form
(October 2018)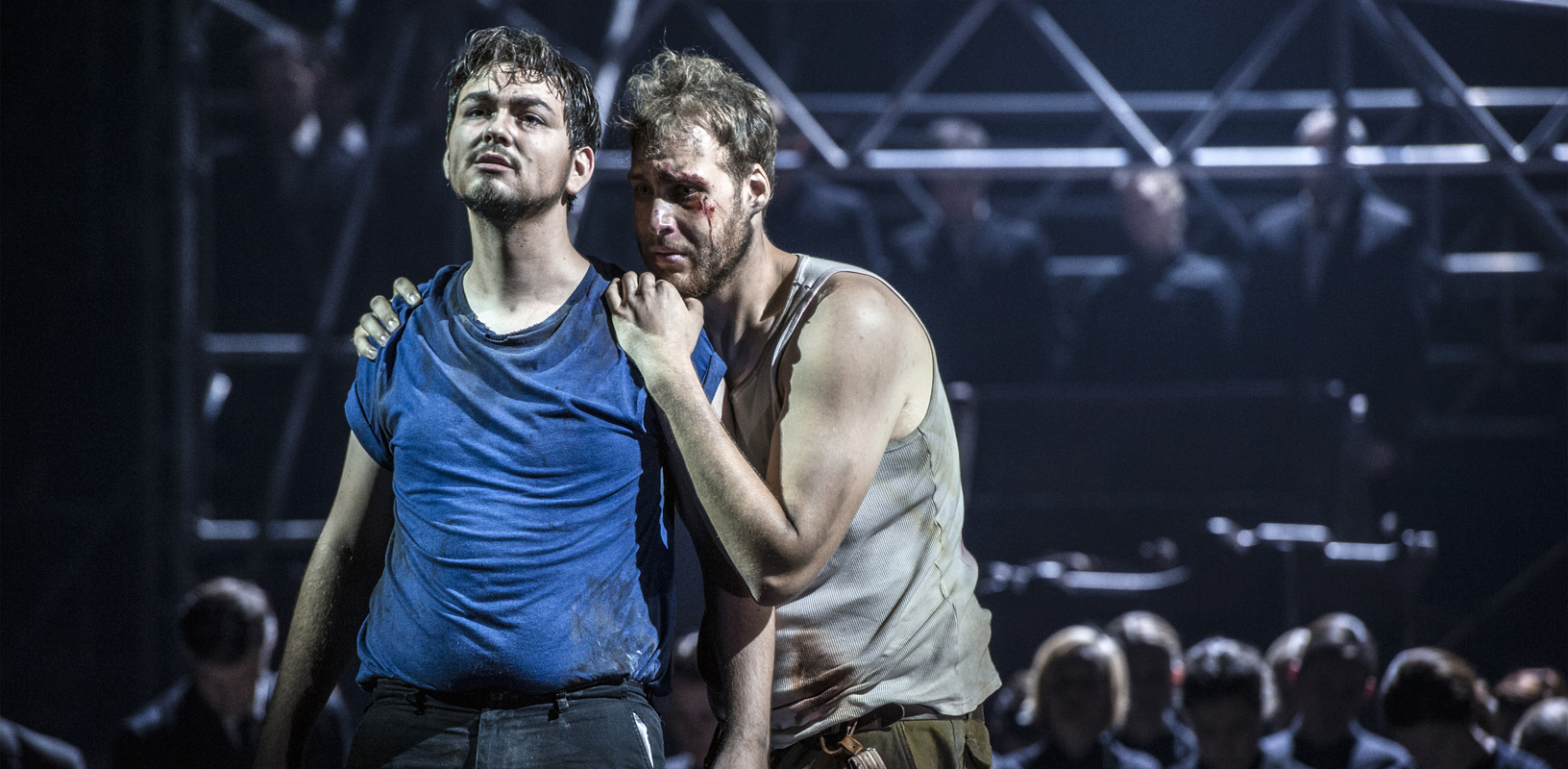 English National Opera stages Britten's War Requiem in November, the latest in a series of visual interpretations that have seen the work move from the concert hall to film and stage.
The dramatic strength of Benjamin Britten's War Requiem has led to a series of visual realisations beyond the concert platform. The latest of these opens at the London Coliseum on 16 November with six performances staged by English National Opera in the weeks following Armistice Day. Daniel Kramer's production with designs by Turner Prize-winning artist Wolfgang Tilmans is conducted by Martyn Brabbins with singers Emma Bell, David Butt Philip and Roderick Williams.
Combining anti-war English poetry by Wilfred Owen and the Latin Requiem Mass, the War Requiem was written to mark the opening of the new Coventry Cathedral in 1962 alongside the bombed old cathedral. Britten's powerful score captures the personal experience of soldiers like Owen in the World War I trenches but also sends a universal plea for peace. Owen survived until the final week of the war – news of the poet's fate reached his parents as the Armistice bells were ringing on 11 November. Britten heads his oratorio with a quotation from Owen: My subject is War, and the pity of War. The Poetry is in the pity. All a poet can do today is warn.
The first visualisation of the War Requiem came with Derek Jarman's 1989 film adaptation using the 1963 Decca recording. Scenes are drawn from memories of an old soldier, played by Laurence Olivier in his last acting role, including Owen's 'strange meeting' on the battlefield, and hospital scenes with Tilda Swinton as the nurse tending Owen. Jarman's unique visual world is combined with footage of more recent conflicts.
Stagings of the War Requiem followed, with notable productions in recent years including Calixto Bietio's radical staging seen at the Theater Basel in 2013 and Norwegian Opera in Oslo. This terrifyingly intense production set the drama in a church, complete with stained glass, scaffolding, chorus in the pews and the chamber orchestra on stage. A further production at the Lyon Opera by Japanese director Yoshi Oida was staged last year with a trio of English, German and Russian soloists matching the symbolic reconciliation of warring nations at the work's premiere under Britten's baton.
The centenary of the end of World War I has attracted high profile performances of the War Requiem in its more conventional concert setting, both in the UK and internationally in Paris, Lille, Antwerp, Amsterdam, Berlin, Dresden, Vienna, Madrid and Washington.
> Further information on Work: War Requiem
Photo: Britten's War Requiem staged by Calixto Bieito at Norwegian Opera in 2016 (Image: Erik Berg)

Boosey & Hawkes Composer News