Detlev Glanert: reviews of Solaris premiere in Bregenz
(October 2012)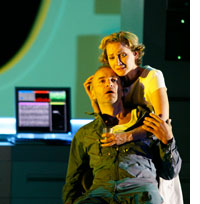 Detlev Glanert's new opera Solaris, based on the novel by Stanislav Lem, opened at the Bregenz Festival in July, and will be staged by the Komische Oper in a future season.
<DIR=LTR align="left">The premiere production of Detlev Glanert's new opera, Solaris, in a staging by Moshe Leiser and Patrice Caurier, opened at the Bregenz Festival in July, conducted by Markus Stenz and with Dietrich Henschel in the lead role. The opera examines themes of human communication explored in Stanislav Lem's metaphysical book, set on a space station circling the planet Solaris. As the scientists probe the planet's 'thinking ocean' Solaris retaliates by recreating figures from their memories, prompting disturbing journeys of self-discovery.


<DIR=LTR align="left">"[Glanert] has an exceptional knack for music drama. His score reflects the cosmic solitude just as well as the psychological terror which the scientists on Solaris repeatedly experience, exposed through the personification of their own feelings of guilt. At the same time, Glanert places great emphasis on the comprehensibility of the text, and finds a skilful balance between the recitative-like arioso and the musico-dramatic elements, which are allowed to flow in and out of each other perfectly."
Südkurier





"In his portrayal of Solaris with orchestra and a large chorus, Glanert has created his own soundworld for the work: alongside sections of overwhelming intensity, there is much translucent chamber music. The music is stylistically flexible, dramatically precise… and it creates both atmosphere and tension."
Neue Zürcher Zeitung

"Glanert's art of allowing the orchestral colours to shimmer is shown here anew. In masterly fashion he gives choral voice to the planet, from the first stuttering syllable to fully-formed language."
Badische Zeitung


"[Glanert] delivers what is missing in most modern operas. He is accomplished in the world of the theatre. He has an instinct for the structure of a work. He is able to conjure up orchestral colours and atmospheres. He can make scores comprehensible to first-time listeners… But above all, he knows how to write for singers. Glanert is one of the most, perhaps the most, practical of the current generation of opera composers."
Münchner Merkur


Solaris will be staged by the Komische Oper in Berlin in a future season, again conducted by Markus Stenz.


The Glanert feature at the Bregenz Festival also included Nijinsky's Diary, which fuses opera, theatre and dance, and the Austrian premiere of Theatrum bestiarum. Other summer highlights were the UK premiere of Caligula at English National Opera in London and the world premiere under the baton of Ivan Fischer of a new ten-minute orchestral Nocturne commissioned by the Berlin Konzerthaus.
> Further information on Work: Solaris
Photo: Bregenzer Festspiele / Karl Forster

Boosey & Hawkes Composer News