Ensemble Modern tours Neuwirth's "...ce qui arrive..."
(October 2004)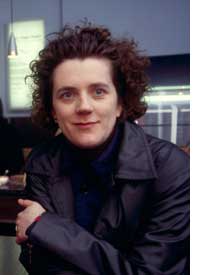 Austrian composer Olga Neuwirth's exploration of the fusing of multiple media continues with her latest work, toured this season by Ensemble Modern. The title "…ce qui arrive…" ("…things happen…") was inspired by a 2002 exhibition organised by the philosopher Paul Virilio examining the accumulation of single coincidences into aggregates. Neuwirth links this metaphorically to the effect of mixing media so that the focus, perspective and possible meanings are constantly shifting.



In "…ce qui arrive…" Neuwirth's soundworld combines the ensemble music and live electronics with the recorded voice of American writer Paul Auster. He is heard reading from his books Hand to Mouth and The Red Notebook, either as straight recitation, integrated with other sounds as if in a radio play, or passed through a string resonator so that the low tones can interact with those of a string ensemble. The film by Dominique Gonzalez-Foerster which runs throughout the work features the cabaret artist and actress Georgette Dee, sometimes with performance footage of her singing, at other times focusing on close-ups of her red dress floating in the air.

The work is in three parts: the first representing the natural yet alien outer world of wind and water as on the beach at Venice; the second exploring the conception of the contemporary artist trapped with an inner idea and needing to make a chain of fateful decisions; the third the interaction between the outer and inner environments. Venice, Neuwirth's home for a number of years, continues to play a significant role in her creative life: her new orchestral work Zefiro aleggia…nell'Infinito is premiered at the Venice Biennale on 14 October with the orchestra of La Fenice conducted by Bernhard Kontarsky.

Olga Neuwirth:"…ce qui arrive…" (2004)
for voice, video, tape and ensemble
Texts: Paul Auster, Andrew Patner, Georgette Dee
Duration: 55 minutes
Commissioned by the European Concert Hall Organisation

Ensemble Modern tour

Franck Ollu   Conductor
Paul Auster   Text and voice
Dominique Gonzalez-Foerster   Film and virtual space
Georgette Dee   Special appearance

2004
21/22 October   Styrian Autumn, Graz
28 October   Konzerthaus, Vienna
1 November   Philharmonie, Cologne
14 December   Cité de la Musique, Festival d'Automne de Paris

2005
16 March   Ars Musica, Brussels
18 March   Alte Oper, Frankfurt
30 March   Concertgebouw, Amsterdam
30/31 July   Bregenz Festival
2 December   Carnegie Hall, New York

For an interview with Neuwirth in German about "...ce qui arrive..." download the Ensemble Modern newsletter (PDF).
> Further information on Work: ... ce qui arrive...
Photo: Olga Neuwirth © Priska Ketterer

Boosey & Hawkes Composer News