Girls of the Golden West Premieres at San Francisco Opera
(December 2017)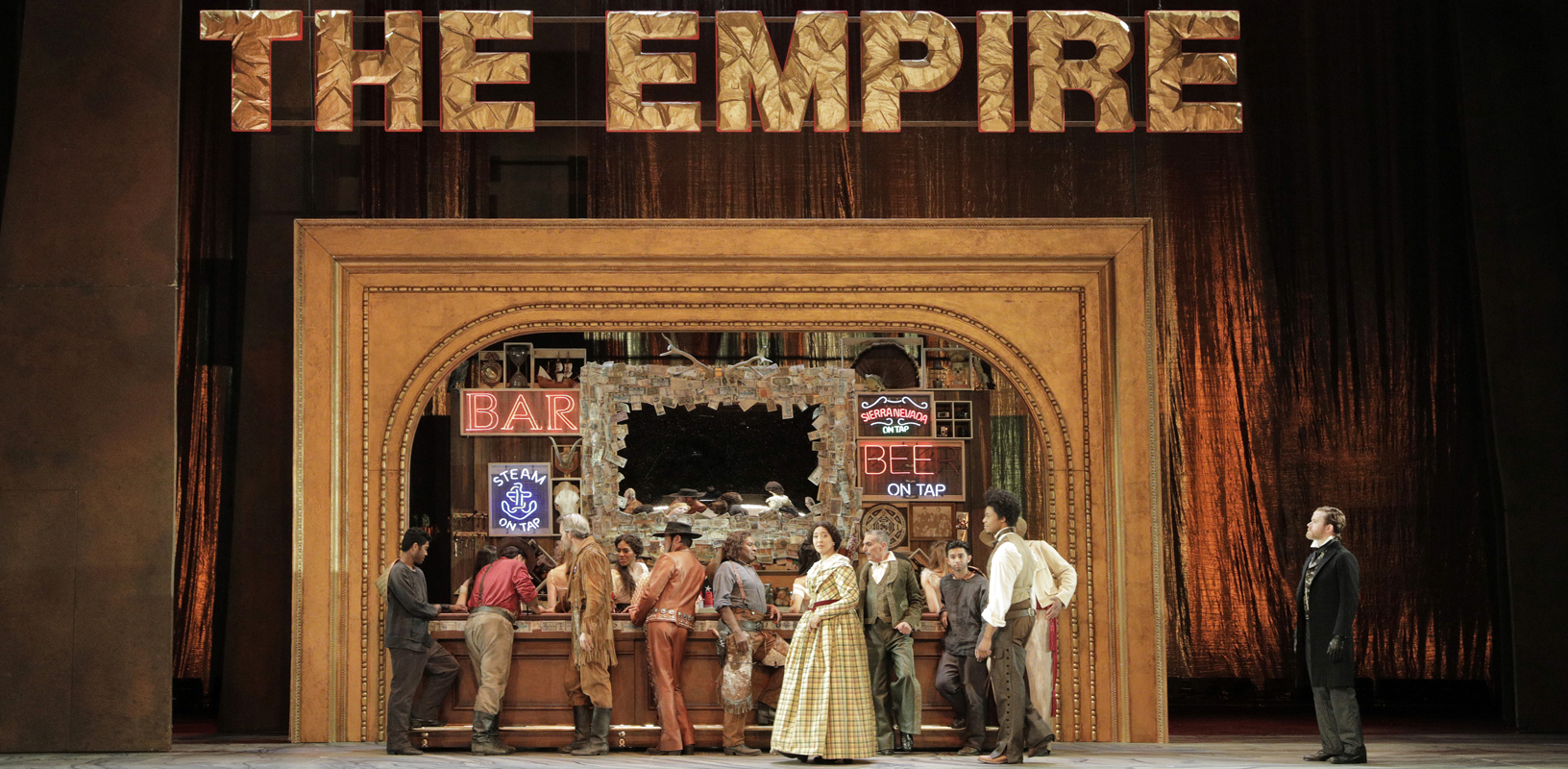 John Adams's latest opera debuted on November 21, read below for critical response. After the opening night performance, the opera company presented Adams with the San Francisco Opera Medal.
"The most eagerly anticipated new opera of the season" (The New York Times), John Adams's Girls of the Golden West had its long-awaited premiere at San Francisco Opera on November 21. Immediately following the performance on November 21, Company General Director Matthew Shilvock presented Adams with the San Francisco Opera Medal, the company's most esteemed award that is given for artistic integrity, collegiality and distinguished service to San Francisco Opera. On stage, Shilvock announced, "Never before has the San Francisco Opera Medal—our highest recognition of artistic accomplishment over an extended period of time—been awarded to a composer. But never before have we had a composer who has been quite as deeply a part of this company's artistic legacy as John Adams."

Adams also spoke upon receiving the medal: "I feel so deeply privileged to have my work brought to life by all of the people that are in front of you here—the marvelous orchestra, these incredible singers, Grant Gershon, my wonderful, longtime conductor ... I could go on and on. It's been a lifetime leading up to this."

The composer commented on his newest opera: "When word came out about what this opera was about, people said 'well, that's not a John Adams opera. He's written about presidential politics, terrorism and the invention of the atomic bomb.' But Girls of the Golden West is very much about right now. What gives me hope is that I live in California. Maybe, just maybe, you might have witnessed, at least for the time being, a California opera. That's something we can all celebrate."

REVIEWS

The New York Times
"Mr. Adams has written extraordinary music."
"Some exciting stretches, conducted with crackling energy and color by Grant Gershon, certainly convey the teeming wildness, racial animosity and lawless violence that roiled the West."

New Yorker
"Golden West is an entirely different beast. It shows a past that is not really past, a hollow myth still in the making."
"Adams's savage, fractured music makes one long for an entire Shakespeare opera from him."
"GGW…has the raw stuff of a major opera, and rawness is part of its power."

Mercury News
"Eureka! Triumphant new John Adams gold rush opera premieres in SF"
"stunning"
"Adams' score…is an engrossing mix of lyrical tunes and propulsive drive."

Los Angeles Times
"an opera for our time"
"Girls of the Golden West is our state and our country two centuries ago and now. It provides the same penetrating look now that Dame Shirley did then. It needs no defense. Time, if only we will listen, is on its side.

Opera News
"The most eagerly anticipated event of San Francisco Opera's fall season was the world premiere of Girls of the Golden West on November 21—and the company's opening night performance lived up to expectations. The latest collaboration from composer John Adams and librettist-director Peter Sellars, the opera is a work steeped in California history that speaks to the politics of today."
"It offers a richly imagined score, a libretto drawn from historical sources, and an affectingly staged production."

Financial Times
"John Adams's opera offers an arresting vision of California during the gold rush."
"Adams is second to none in his word-setting. As in earlier works, Adams's choral writing finds the composer at his best."

Bachtrack
"[Girls of the Golden West] deserves to be seen."

Limelight Magazine
"Suffice it to say the score can pulse with enormous power, driven by Adams' signature snarling brass and sinuous woodwinds, yet pull back to an ethereal string tone to heart-stopping effect. The final miners' chorus is devastating."

The Times (UK)
"John Adams's Gold Rush opera is powerful."
> Further information on Work: Girls of the Golden West
Photo: Cory Weaver

Boosey & Hawkes Composer News