Louis Andriessen: Rosa's Horses gallop into Amsterdam
(April 2013)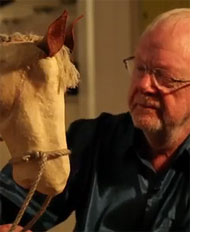 A new orchestral suite Rosa's Horses, arranged from Louis Andriessen's opera by Clark Rundell, is premiered at the Concertgebouw in Amsterdam on 18 May.
Amsterdam's Zaterdag Matinee series plays host on 18 May to the premiere of a new Andriessen orchestral suite, Rosa's Horses, drawn from his 1994 operatic collaboration with Peter Greenaway, ROSA. The 25-minute suite has been arranged by Clark Rundell who worked closely with the composer on this and an earlier suite Vermeer Pictures based on Andriessen's opera Writing to Vermeer, following in the historic tradition of creating suites from stageworks to allow the music to be heard outside the opera house. Rundell conducts the first performance of Rosa's Horses at the Concertgebouw in Amsterdam with the Netherlands Radio Chamber Orchestra.

Clark Rundell writes: "When Louis and I worked together on Vermeer Pictures I started listening again to his first major Greenaway collaboration, Rosa. Louis likes to call Vermeer his feminine daughter and there's no doubt that Rosa is the masculine son! From the first bar of wildly chasing canons led by the saxophones, the piece hurtles through music which evokes the sound world of a pastiche Spaghetti Western, full of energy, wit and irony. However, these helter skelter moments remain carefully balanced with moments of utter beauty, even timeless suspension. I cannot wait to bring this music to life - important, glorious music which has not been heard live for over fifteen years."

Louis Andriessen discusses Rosa's Horses on a new video introduction:
/podcast/100182
The composer describes how the opera created with Peter Greenaway offers a multi-layered and ironic critique on Hollywood westerns, with the crazy Latin American composer Rosa pursued and murdered by cowboys. Running through the opera is the thread of numerous horses, in Greenaway's staging including a live horse, a full-size realistic model horse, and a toy horse, and their music is linked together to create the new orchestral suite with Andriessen's distinctive tangy scoring including saxophones, keyboards and electric guitars.

Andriessen's 'horse opera' ROSA, with libretto, scenario and staging by Peter Greenaway, was premiered at the Netherlands Opera in 1994 and was recorded on CD by Nonesuch. Andriessen's most recent opera, La Commedia, is released by Nonesuch this summer.

The 2013/14 season includes world premieres of two new Andriessen works at the Concertgebouw in Amsterdam: Mysteriën with the Royal Concertgebouw Orchestra conducted by Mariss Jansons on 3 November, and Tapdance Concerto for percussionist Colin Currie in the Zaterdag Matinee series with the Schoenberg/Asko Ensemble conducted by Reinbert de Leeuw on 24 May 2014.
> Further information on Work: Rosa's Horses
Photo: Louis Andriessen

Boosey & Hawkes Composer News